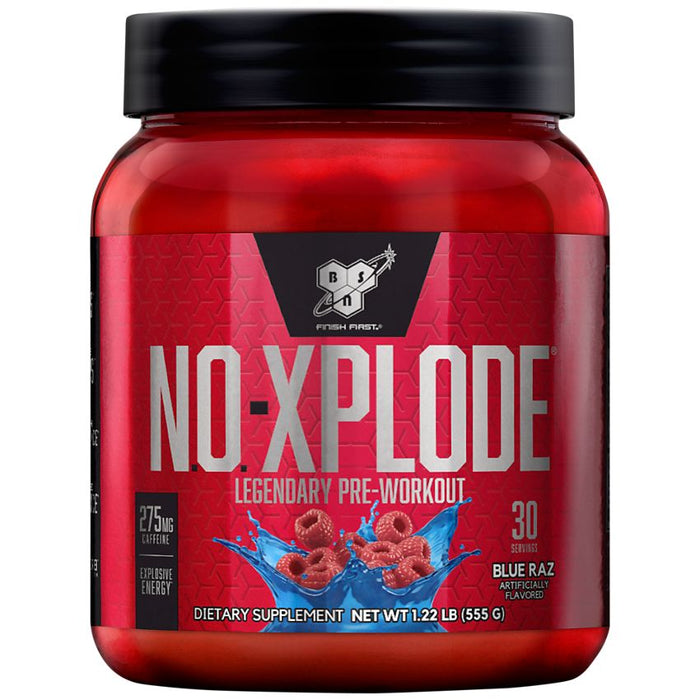 BSN N.O.-Xplode
Sold out
Original price
$35.99
-
Original price
$64.99
Free 30 Day Returns

Free Shipping Over $50

Pay in 4 With Afterpay
Legendary Pre-Workout Igniter
Now with more energy, more feel, more focus, and amazing taste. The weights won't know what hit them.
If you're ready to PUSH harder and longer than before, N.O.-XPLODE® will help take your workouts to new levels.
How Will N.O.-XPLODE enhance your workout?
To achieve the most effective training session, both mental and physical energy are a must. Focus is then needed to harness this energy and drive a strong mind-muscle connection. This mind-muscle connection will help you achieve a greater workout and help push your body past previous limits. At BSN, we know that a pre-workout supplement should support all of these benefits. We designed N.O.-XPLODE, our complete pre-workout igniter, to help deliver increased energy and endurance, support mental focus and muscular strength, and provide second-to-none intensity to help athletes of all levels maximize workout performance.
DIRECTIONS
Directions: Consume 20-30 minutes before training.

Mix 1 scoop with 4-6 fl oz of cold water and consume 20-30 minutes before training. DO NOT SHAKE. STIR POWDER.
WARNINGS
Warnings: Warning: Consult Your Physician Before Using This Product If You Are Taking Any Medications Or Are Under A Physician's Care For A Medical Condition. Not For Use By Those Under The Age Of 18, Women That Are Pregnant, Trying To Get Pregnant, Or Nursing, Or Those That Are Sensitive To Beta Alanine, Caffeine Or Niacin. Do Not Consume Caffeine From Other Sources While Taking This Product As Too Much Caffeine May Cause Nervousness, Irritability, Sleeplessness, And Occasionally Rapid Heartbeat, Beta-Alanine And Niacin May Cause A Harmless, Temporary Tingling Or Flushing Sensation. Do Not Combine With Alcohol. Do Not Exceed 2 Scoops Within Any 24 Hour Period, Consumed At Least 4 Hours Apart. Consume As Part Of A Healthy Diet And Exercise Program, And Drink At Least 100 Fl Oz Of Water Per Day. Exercise May Increase Your Need For Additional Fluid Intake. Keep Out Of Reach Of Children. Store In A Cool, Dry Place Away From Direct Sunlight. Phenyketonurics: Contains Phenylalanine.