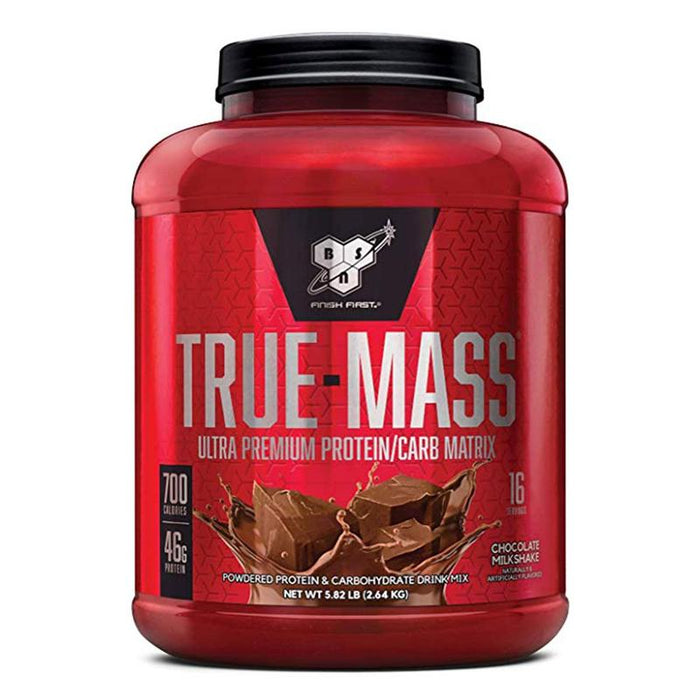 BSN True Mass
Sold out
Original price
$69.99
-
Original price
$69.99
Free 30 Day Returns

Free Shipping Over $50

Pay in 4 With Afterpay
Ultra-Premium A.M. to P.M. Lean Mass Gainer
BSN'S EXCLUSIVELY ENGINEERED PRECISION NUTRITION TECHNOLOGY! A.K.A. "NUTRIENT TIMING WINDOWS"

The science of taking full advantage of the most critical "NUTRIENT TIMING WINDOWS" is a key factor in BSN's pursuit of developing cutting-edge physique and performance-enhancing products. Engineered to activate a physiological chain reaction during the most beneficial and crucial "NUTRIENT TIMING WINDOWS," BSN's products are conditionally essential for accelerating optimal physique gains, performance, recovery and nutrient super-compensation. This provides individuals with the vital advantage needed to help take their physique and performance to the next level.
DIRECTIONS
Directions: Mix 3 Scoops With 16 Fl Oz Of Cold Water Or Any Beverage Of Your Choice. Drink As Needed To Satisfy Your Protein or Mass-Gaining Requirements. To Increase Your Protein And Calorie Intake Per Serving And To Achieve An Amazing Milkshake Taste, Use Milk. Suggested Use: For Healthy Adults, Consume Enough Energy Form A Combination Of High Quality Food And Supplements Throughout The Day As Part Of A Balanced Diet And Exercise Program.
WARNINGS
Warnings: Contains: Egg, Milk, Soy, And Wheat. Contents Sold By Weight, Not Volume. Store In A Dry Place Away From Direct Sunlight. True Mass Contains 20 Grams Of Naturally Occurring Essential Amino Acids, Of Which 10 Grams Are Branched Chain Amino Acids.