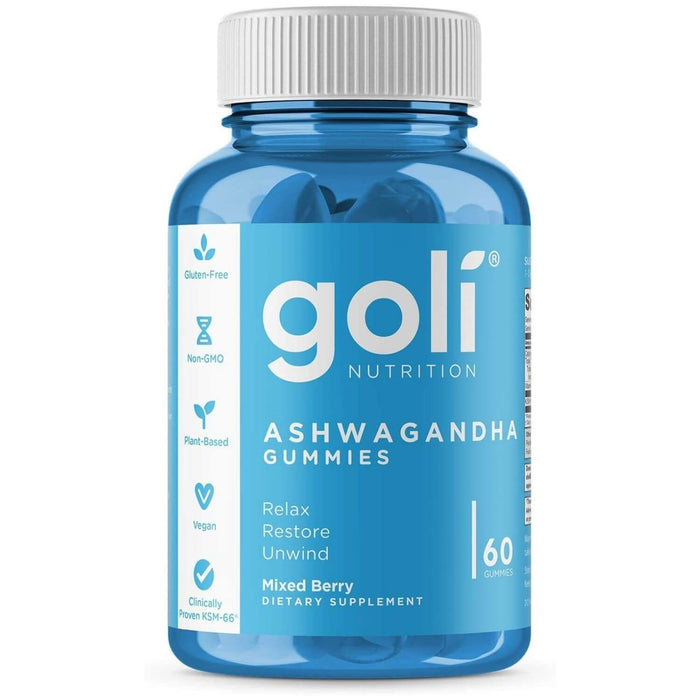 Goli Ashwagandha Gummies
Sold out
Original price
$19.00
-
Original price
$19.00
Free 30 Day Returns

Free Shipping Over $50

Pay in 4 With Afterpay
First Ashwagandha gummy that is vegan, gelatin-free and gluten-free. An ancient medicinal herb that has been used for centuries for its many benefits. Ashwagandha, being classified as an adaptogen can help the body in managing stress and anxiety. Additionally, it can boost brain function, lower blood sugar and cortisol levels, and help fight symptoms of anxiety and depression.
Benefits
Reduced Stress and Tension
Supports Muscle Strength
Helps Endurance
Helps Improve Memory
Supports Healthy Sleep
Supports Post Exercise Recovery
Improves Mood
Promotes Calmness
Ingredients
KSM-66® Ashwagandha

The ancient Indian herb, Ashwagandha (Withania somnifera), has been recognized for its medicinal properties for over 5,000 years. It is rooted in Ayurveda, a holistic and natural system of medicine based on the concept that health and wellness depend on a balance between physical and mental health by utilizing natural medicine.

Ashwagandha is also an adaptogen—a plant that helps the body maintain balance and adjust to stress. This function of Ashwagandha is well-documented and heavily backed by modern science.

KSM-66® Ashwagandha is the highest concentration of Ashwagandha extract on the market with extensive research behind it that supports various health benefits.
Vitamin D
A fat-soluble vitamin that plays an essential role in the healthy development of bones, teeth and muscle and also supports a healthy immune system.
Pectin
Unlike most other gummies on the market that are made with gelatin, Goli ACV Gummies are made with pectin, from fruit peels, making them vegan friendly and as such, enjoyable by many different lifestyles and diets.