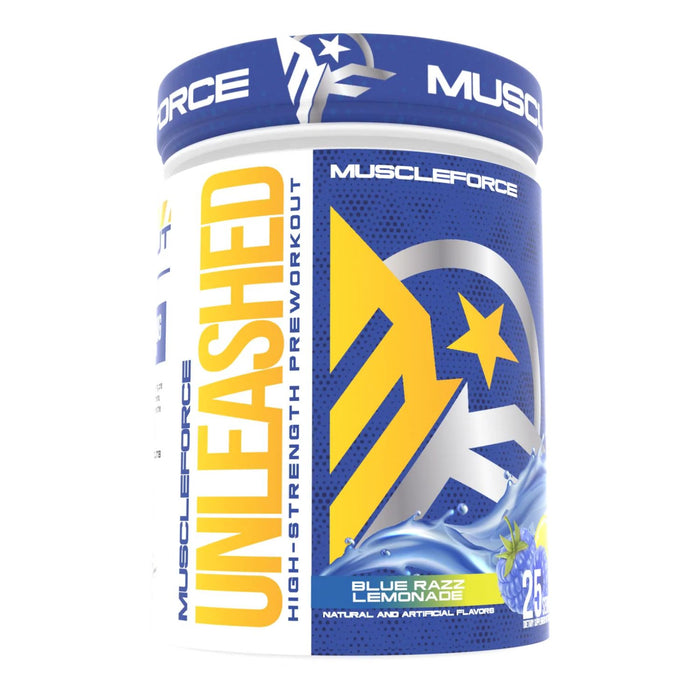 MuscleForce Defiant Unleashed
Sold out
Original price
$54.99
-
Original price
$54.99
Free 30 Day Returns

Free Shipping Over $50

Pay in 4 With Afterpay
Defiant Unleashed is for the stim-junkies. The people who are tired of taking pre workouts that just don't "Hit" anymore. Here at MuscleForce we decided to create a product so potent we strongly recommend starting with only 1/2 scoop.
FAQ's
How much caffeine is in Defiant Unleashed?
There is 450mg of total Caffeine in 1 scoop - "Caffeine Anhydrous." 
What is the difference between Defiant Unleashed and the other Defiant?
Defiant Unleashed is a higher-stimulant product - so the intensity is higher than the Defiant. The Defiant is still very strong, but not as strong as the Defiant Unleashed.
Can Defiant Unleashed be taken with Obedient X3?
Absolutely! Obedient X3 is a NON-stimulant product that contains pump, focus, & hydration ingredients. This allows you to take 1 serving of each together with no issues. 
Can I take this with my coffee or any other stimulant-based product?
No, we don't recommend to. The only time it would be safe to take other stimulants would be 6-8 hours before or after taking Defiant Unleashed, but never at the same time. 
DIRECTIONS
Directions: As a dietary supplement, mix 1 scoop in 8-12oz of water 20-30 minutes prior to your workout. Due to it;s extreme potency, new users should start with 1/2 scoop to assess their tolerance. Do not exceed 1 scoop within a 24-hour period. For enhanced pumps, strength & endurance, stack Defiant Unleashed with our other products, Obedient and Crea-Gainz.

WARNINGS
Warnings: For use by healthy adults only, not recommended for persons under the age of 18. Do not use if you are pregnant or nursing,. Individuals should not consume other caffeinated product in conjunction with this product. Do not use if the safety seal is broken. KEEP OUT OF THE REACH OF CHILDREN.