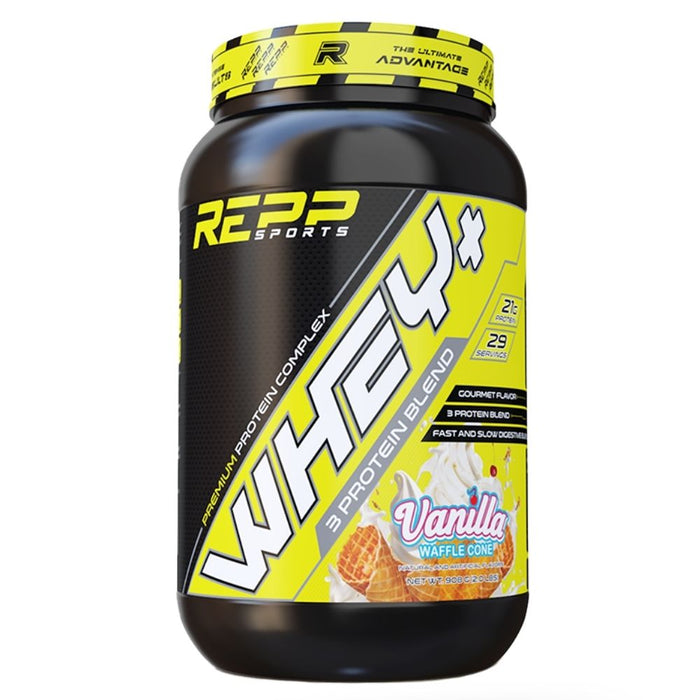 REPP Sports Whey+ Premium Protein
Sold out
Original price
$37.99
-
Original price
$52.99
Free 30 Day Returns

Free Shipping Over $50

Pay in 4 With Afterpay
Whey features a unique 3 protein blend that provides a balance of instant nutrition to feed sore muscles, while also providing slower digesting protein for sustained nourishment and a more diverse peptide profile. Whey delivers a protein perfect for any situation. REPP Sports claims exclusive rights to all gains made.
Gourmet Flavor
3 Protein Blend
Fast and Slow Digestive Blend
DIRECTIONS
Directions: For A Rich and Satisfying Shake, Mix Whey + With 6-8 Oz. If Water Or Milk. For A Thinner Shake With Milk Sweetness, Mix With 10-12oz. Of Water.
Recommended Use: Casual: Light And Daily Activities Use 1 Scoop (21g Protein). Athlete: Intermediate Or Moderate Training Use 2 Scoops (42g Protein). Hardcore: Body Building or Extreme Training Use 3 Scoop (63g Protein).
When to Take: Before Workout: Create And Optimal Environment For Protein Synthesis By Mixing 1 Scoop With 6-12 Oz. Of Water before Your Workout. After Workout: Encourage Recovery After Training By Mixing 1 Scoop With 6-12 Oz. Of Water Within 1 Hour Of Completing Workout. Meals: Feed Your Muscles By Mixing 1 Scoop With 6-12 Oz. Of Water with Breakfast, Lunch, or Dinner.
WARNINGS
Warnings: Allergens: Contains Milk, Soy.