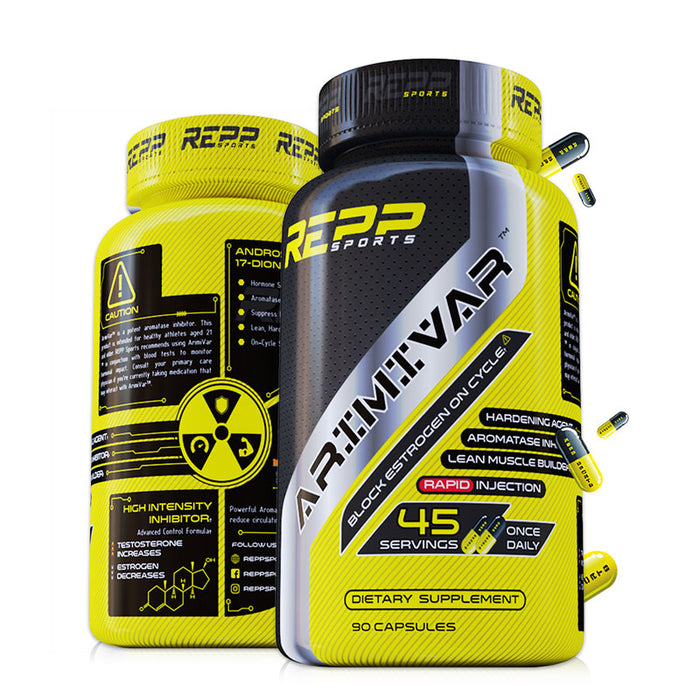 REPP Sports Arimivar
Sold out
Original price
$44.99
-
Original price
$44.99
Free 30 Day Returns

Free Shipping Over $50

Pay in 4 With Afterpay
ARIMIVAR INTENSE ANTI - AROMATASE
HARDENING AGENT
From mush to marble. ArimiVar helps build dense muscle that captures the aesthetic of Greek gods of old. 
AROMATASE INHIBITOR
ArimiVar™ crushes circulating estrogen while also blocking the conversion of excess testosterone to estrogen.
LEAN MUSCLE BUILDER
No bloat or 'wet gains'. ArimiVar chisels out defined, lean muscle while increasing strength and stamina.
DIRECTIONS
Directions: As a dietary supplement, take 1 serving (2 capsules) with water or your favorite beverage once daily.
WARNINGS
Warnings: ArmiVar is a potent aromatase inhibitor. This product is intended for healthy athletes aged 21 years or older. REPP Sports recommends using ArmiVar in conjunction with blood tests to monitor hormonal impact. Consult your primary care physician if you're currently taking medication that may interact with ArmiVar. DISCLAIMER: Consult your doctor prior to use, especially if you are taking any medications and have, or are at risk for prostate disease, heart disease, or other medical conditions. Do not exceed suggested dosage. Discontinue use immediately if you experience rapid heart beat, dizziness, vomiting or other similar symptoms. Side effects may include acne, hair loss, or increased aggressiveness. All persons are advised to consult with their doctor or other medical authority before use of this or any other dietary supplement. Do not use product if your health status is unknown. All persons are advised to contact their drug testing organization prior to use of this or any other dietary supplement. Not suitable for persons under the age of 21 years. ALLERGEN: Manufactured in a plant that also processes milk, egg, soy, peanut, fish, crustaceans/shellfish, tree nuts and wheat products.