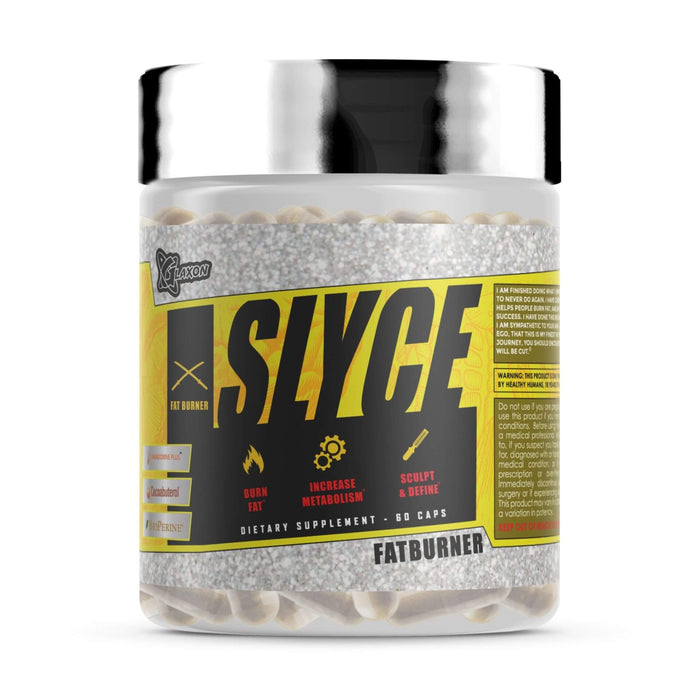 Glaxon Slyce
Sold out
Original price
$49.99
-
Original price
$49.99
Free 30 Day Returns

Free Shipping Over $50

Pay in 4 With Afterpay
Burn Fat, Sculpt and Define
Slyce is a fat burner that is designed to increase basal metabolic rate, energy expenditure, and overall fat loss.  We've taken advantage of a few separate mechanisms that burn fat in both a stimulatory and non-stimulatory fashion to make the most out of your body's own fat-burning processes.
WHY WOULD I TAKE IT?
If you're looking to get leaner and meaner and look better in the mirror, Slyce fat burner can be the answer you're looking for.  If you're seeking to gradually shed layer after layer of fat, or if you're seeking to optimize how much fat is being burned while exercising, Slyce takes advantage of the normal hormonal processes in the body that help move this process along.  
HOW DOES THIS WORK?
Slyce fat burner works in two interesting ways, 1) is non-stimulatory thermogenesis and 2) stimulatory thermogenesis.  This is kinda nice because part of the formula actually delivers substantial energy that you can actually feel, and a lot of that activity releases hormones and neurotransmitters that facilitate the release of triglycerides from fat storage sites so they can actually be burned.  Also, when Slyce fat burner directly attacks fat cells through non-stimulatory thermogenesis, we focus on utilizing the uncoupling proteins that can override the normal energy production pathways and result in even more heat.
DIRECTIONS
Directions: Slyce fat burner is designed to be taken as two capsules daily.  On workout days, this can be taken two capsules 30-45 minutes before exercise.  On non-workout days, this can be taken as one capsule in the morning and then one capsule mid-afternoon.