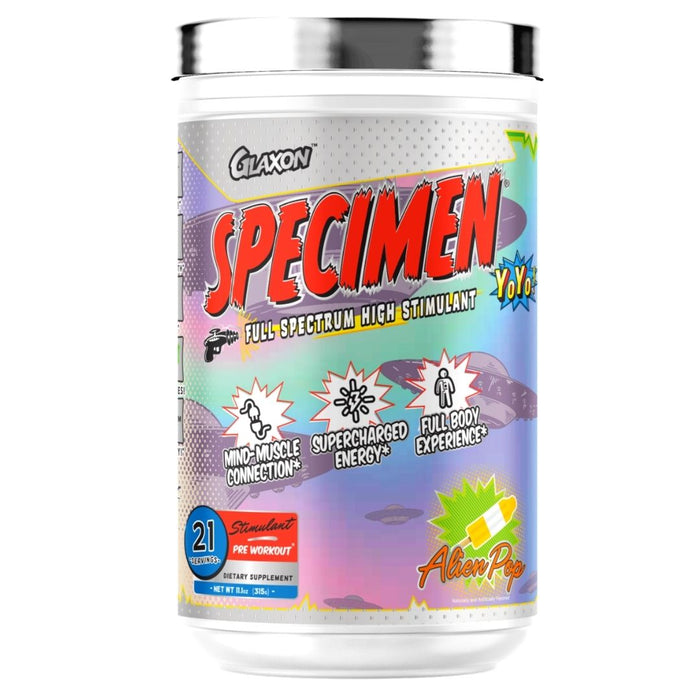 Glaxon Specimen Yo-Yo
Sold out
Original price
$49.99
-
Original price
$49.99
Free 30 Day Returns

Free Shipping Over $50

Pay in 4 With Afterpay
Supercharged Energy Pre Workout
WHAT IS IT?
Specimen is a pre-workout formula designed to energize, hydrate, and increase power output.  With far-out flavors, and a fully disclosed ingredient panel, we decided to take your typical pre-workout formula and turn it up a few notches with even greater energy levels and enhanced mind-muscle connection to take you and your workouts from mediocre to exceptional!
WHY WOULD I TAKE IT?
Glaxon Specimen Can:
Boost Energy
Enhance Muscle Pumps
Improve Workout Performance
Increase Strength and Power Output
Decrease Muscular Fatigue
Heighten Focus and the Mind-Muscle Connection
Support Proper Hydration and Electrolyte Balance
HOW DOES THIS WORK?
Specimen is Unlike Anything You've Experienced – BE WARNED!
The average human being may not be prepared for this unruly specimen. Under the microscope, we're looking at a whole new breed of pre-workouts. Something so extreme that we debated releasing it into the wild. When Glaxon Specimen hits, it hits hard and fast – delivering ridiculous levels of energy, focus, and muscle pumps.
If you are sensitive to stims, STAY AWAY! This powerful pre-workout is enough to fuel an empty jetpack and prepare you for liftoff. Glaxon Specimen is a high-stim pre-workout that will fuel you through the most intense workouts. Surprisingly enough, a pre-workout this potent does not cause the usual jitters associated with stim-heavy pre-workouts.
Not only will you achieve unreal amounts of endless energy, focus, and pumps, but Glaxon Specimen will help you last longer in the gym by improving hydration and providing essential electrolytes to maintain proper fluid balance during workouts.
When the sweat hits the floor, and you're about to throw in the towel, Glaxon Specimen consumes you and takes control. No workout is safe when Specimen is around. If you release the creature living inside this tub, there's no telling what you may do. BE WARNED!
The available flavors of Glaxon Specimen are truly out of this world with four delicious and unique flavors to choose from – Alien Pop, Molecular Candy, Texas Red, All-American Ice (Watermelon).
DIRECTIONS
Directions: Specimen pre workout is best taken 45-60 minutes prior to exercise.  You can either take ½ scoop or 1 full scoop dissolved into 16oz (500mL) of water, and mix vigorously!