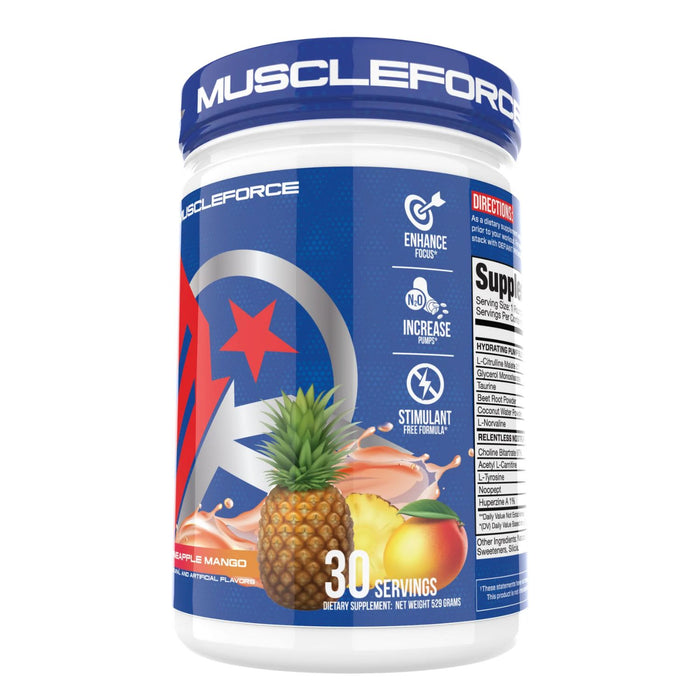 MuscleForce Obedient
Save

0

%
Save %
Original price
$44.99
-
Original price
$44.99
Free 30 Day Returns

Free Shipping Over $50

Pay in 4 With Afterpay
Pump, Focus and Hydration Formula
Obedient x3 is a unique product that provides a powerful pump as well as a ridiculous amount of focus from Nootropics.
The Pump Blend consists of 6g Citrulline Malate 2:1, 3g Glycerol Monostearate, 3g Taurine, & 250mg L-Norvaline. The pump from this product is explosive to say the least. Your muscles will have more blood in them than they ever have before.
Nootropics are brain food. They provide cognitive benefits for your brain and help you dial in your focus so you can focus on the task at hand, stay dialed in to your training, & improve mind-to-muscle connection.
With 5 Nootropic ingredients that all work synergistically together PLUS 30mg of Noopept PLUS all of the high-dosed vasodilators, this pump product leaves other pump products behind in the dirt. To top off Obedient, we included Coconut Water Powder to give your body the electrolytes it needs and keep your muscles hydrated and healthy during your workout.
FAQ
Can I take Obedient X3 with my pre-workout?
Absolutely! you can take it with a stimulant-based pre-workout like Defiant or Defiant Unleashed, or you can take it by itself if you prefer not to have any stimulants in your pre-workout.
Does Obedient X3 contain in stimulants like caffeine, etc?
It contains ZERO stimulants.
Can Obedient X3 be taken with other MuscleForce products?
Absolutely! Obedient X3 can be taken with any of our other products. 
DIRECTIONS
Directions: As a dietary supplement mix 1 scoop in 8-10 oz. of water 30 minutes prior to your workout. For enhanced Pumps, Strength, and Endurance, stack with DEFIANT PREWORKOUT and CREA-GAINZ.