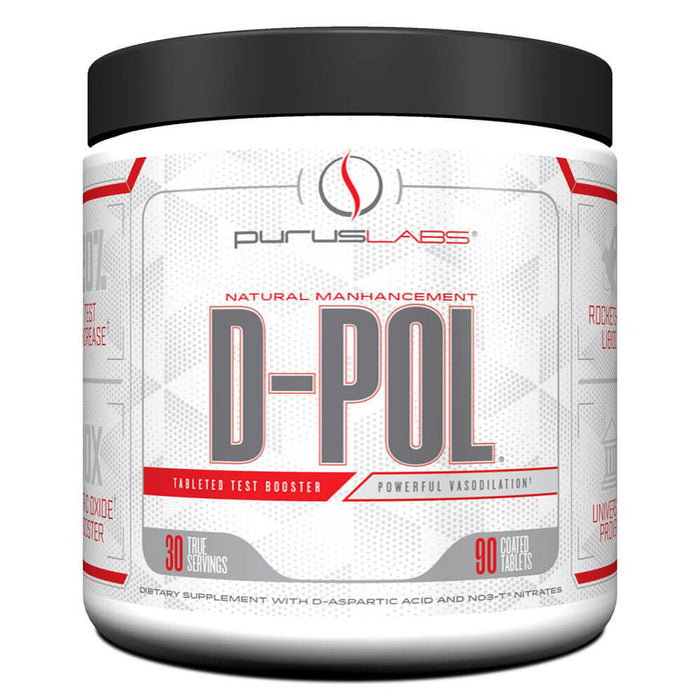 Purus Labs D-Pol Tablets
Sold out
Original price
$29.99
-
Original price
$29.99
Free 30 Day Returns

Free Shipping Over $50

Pay in 4 With Afterpay
Test Support & N.O. Booster
As males age, natural, free test drops. D-Pol ® is known to support increased test production and utilization by providing an increase in the primary hormones that are important for male health and virility via a special blend of vitamins and nitrates.
Directions: Take 1 serving with a mixed food meal prior to intense exercise. Optionally- take 1 serving with pre-workout to maximize exercise efficiency alongside free test elevation.

Warnings: D-Pol is intended only for healthy male adults above the age of 18. All individuals should consult a licensed healthcare practitioner before using this product. Do not use this product if you have been diagnosed with or have a family history of (including but not limited to) heart disease, thyroid disease, liver disease, Barrett's Esophagus, gastro-esophageal reflux, diabetes, hypoglycemia, hypo/hypertension, asthma, any psychiatric condition including depression or seizure disorder, or if you are using any other dietary supplement, prescription drug, or over-the-counter drug intended to promote vasolidation, in particular those intended for erectile dysfunction. The combined use of vasdilatory supplements or drugs and D-Pol could cause an unsafe drop in blood pressure. Discontinue use and contact a medical doctor immediately if you experience an irregular or rapid heart beat, chest pain, shortness of breath, dizziness, lightheadedness, fainting or presyncope, tremors, headache, nausea, or other similar symptoms.