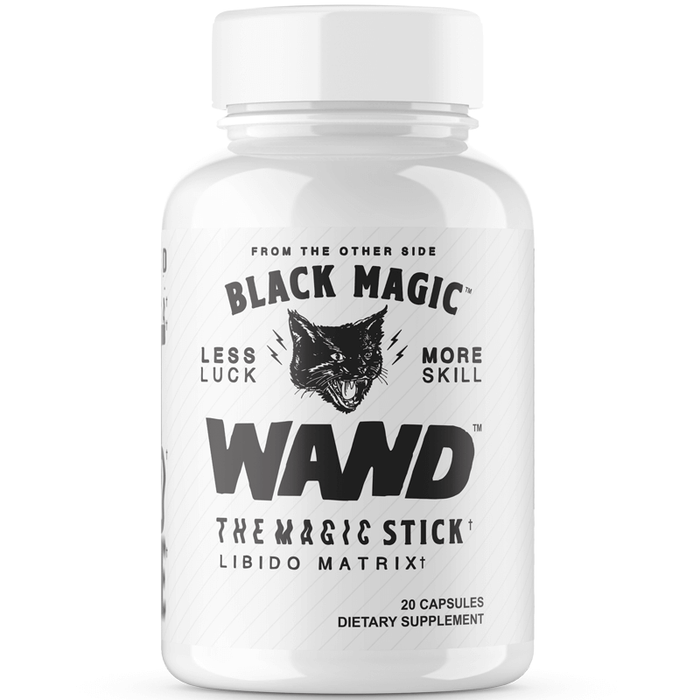 Black Magic Supply Wand Libido Matrix
Sold out
Original price
$49.99
-
Original price
$49.99
Free 30 Day Returns

Free Shipping Over $50

Pay in 4 With Afterpay
Libido Matrix
Wave your magic stick to enhance performance and pleasure with the highest quality Libido Matrix on the market, WAND! Our Less Luck, More Skill approach will ensure that you are all the way up when the opportunity presents itself.
Whether you are looking to put the edge back into your relationship or you are planning to out perform expectations, our non-prescription male enhancement formula is exactly what you need to reveal the magic she has been looking for.
Deliver your best sexual performance and add unmatched stamina with the handcrafted magic of WAND from Black Magic Supply.
HOW DOES WAND WORK?
Wand stands firmly [I swear this is the only pun] on top the volatile libido category when it comes to supplements. Why? Well first off, it isn't a product just smuggling in pharmaceuticals illicitly into a product. No, just like the rest of the brand the manufacturing is quality. It's the choice blend of extracts used that has given wand such great feedback.
As with any smart formulation, micronutrient deficiencies should be addressed first. Can't build a house on a broken foundation. That is why you see good doses of both B3 and Zinc, critical micronutrients for sexual function overall, topping the list! Men especially need Zinc for sex drive, and it often goes overlooked. Boron is also noted for improving male sex function as a critical micronutrient involved in a few hormonal pathways leading to better drive. Now the Wand Matrix is where the house is built, and it is an exotic house.
The leading ingredients in the Wand Matrix come into play as some exotic extract. While Maca and Panaz Ginsing should be somewhat familiar with by name. While neither contribute to a rise in testosterone, they do contribute to a rise in sex drive. And the longer you take it, the higher the drive seems to be with a noted increase in sex drive as high as 40%. Another you may be familiar with is Yohimbine; yes THAT yohimbine. In this form it has a noticed increase again in sexdrive in both men and women. Couple that with its energy drive and it can be quite a night! Now Epimedium Grandiflorum may sound unfamiliar but it's better known as Honry Goat Weed. While high school this may have been written off, this actually has understood function as a PDE5 inhibitor function, the same function Viagra has though not as strong. That is on top of also promoting NO signalling, working hand in hand with its PDE5 inhibition!
As for the unfamiliar players, we have 3! Cholorphytum Borivilianum is works both to increase erection strength as well as being sexually enticing. It works against a protein that pulls erections back, ending up making erections stronger and desire higher. That is layered upon Kaempferia parviflora, which is a hedge on being ANOTHER aphrodisiac. This extract also seems to be pro-erectile as well, though through a less known mechanism. An optimistic bet on the unknown. The final player, and probably most prominent, is Anacyclus Pyrethrum. It actually has decent data showing a huge increase in mounting frequency, decrease time between mounting, and increase in increase erectile uh "strength". Interpret that as you will.
Wand takes Black Magic's quality manufacturing and throws the house at your bedroom game; literally. Every creative pathway that could be utilized, was. Mind you nothing was put in here without reason either. Creativity is always appreciated but if there is nothing supporting that creative process, there is no reason to have it in here. That's why these ingredients were chosen, and that's why this product works so well.
Increased Blood Flow
Unreal Stamina
Unmatched Pleasure
Incredible Performance
DIRECTIONS
Directions: As a dietary supplement take two (2) capsules 1-2 hours before sexual activity.

WARNINGS
Warnings: For use y healthy adults only, but not recommended for persons under the age of 18. Do not use if you are pregnant or nursing. KEEP OUT OF THE REACH OF CHILDREN.