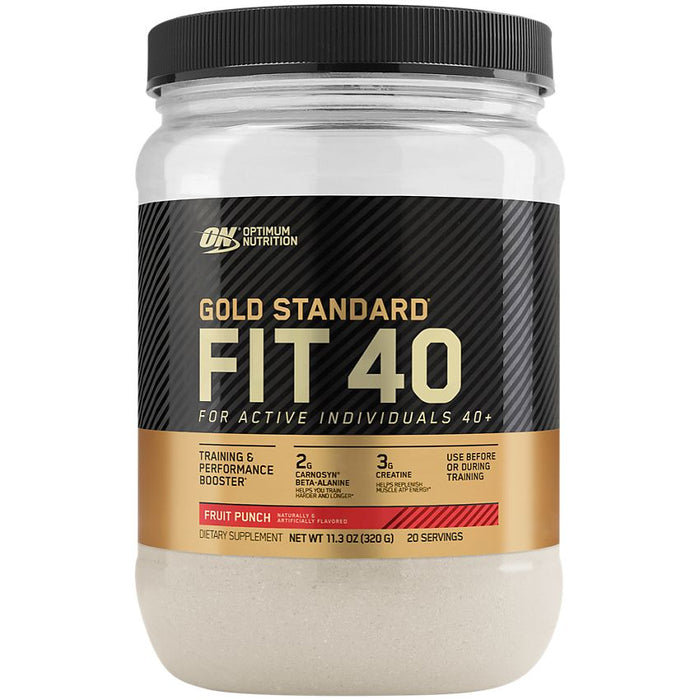 Optimum Nutrition Fit 40 Performance Booster
Sold out
Original price
$42.99
-
Original price
$42.99
Free 30 Day Returns

Free Shipping Over $50

Pay in 4 With Afterpay
Training & Performance Booster
The aging athlete is concerned about maintaining lean muscle mass and sustaining energy levels. FIT40 Training and Performance Booster has a unique formula that can help replenish muscle energy stores that get depleted during high intensity training. When taken before or during exercise, the Performance and Training Booster can help you train harder and longer!
Ingredients like HMB, Creatine Monohydrate and Beta-alanine can help to provide support. However, it can be difficult to consume enough of these through food alone to help reach levels to support performance.
HMB supports muscle strength and rebuilding when taken over time with regular resistance training. HMB also supports recovery after intense exercise.
HMB is a metabolite of the essential amino acid, Leucine.
Creatine may help to support performance and ATP recycling when taken over time with exercise. Every cell in the human body needs ATP to function. Muscles also rapidly use ATP when contracting.
When taken over time, beta-alanine may help to support muscle endurance. Beta-alanine supports carnosine synthesis, which helps buffer acid in muscles. In turn, potentially delaying muscle fatigue.
3 grams of HMB
20 mcg of Vitamin D
3 grams of Creatine Monohydrate
2 grams of Beta-alanine
2 grams PeakO₂™
150 mg of Elev-ATP®
750 mg of Nitrosigine
DIRECTIONS
Mix 16 Grams (About 1 Scoop) With 8-12 Fluid Ounces Of Cold Water Before Or During Exercise. Suggested Use: Intended For Use In Healthy Adults And As Part Of A Healthy, Balanced Diet And Exercise Program.
WARNINGS
Consult Your Physician before Using This Product If You Are Taking Any Medications or Are under a Physician's Care for a Medical Condition. Not For Use By Those Under The Age Of 18 Or Women Who Are Pregnant, Trying To Get Pregnant, Or Nursing.