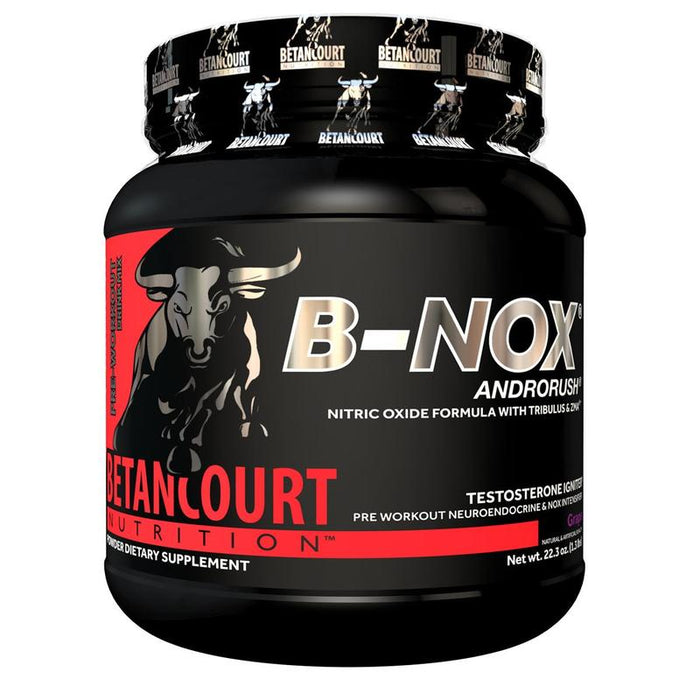 Betancourt Nutrition B-Nox Androrush
Sold out
Original price
$34.99
-
Original price
$39.99
Free 30 Day Returns

Free Shipping Over $50

Pay in 4 With Afterpay
Test Boosting Pre Workout Supplement
The pre-workout category has recently divided into two major classes: the concentrated pre-workout, and the larger serving performance based pre-workout. With both categories you'll find the ingredients between the competition to be similar, if not identical. So if a customer asks for something new or complains of a tolerance build up to stimulants; what new innovation can you really offer them?
B-NOX™ is the first pre-workout nitric oxide to offer a testosterone boosting blend promoted to enhance aggression and the pump during exercise.* For energy, B-NOX™ combines N-Acetyl Tyrosine, Glucuronolactone, Caffeine Anhydrous, and Theobromine for the ultimate, sustained energy rush with less chance of 'crash' or 'jitters†.
DIRECTIONS
Directions: Bodybuilders and Athletes: As a dietary supplement mix 1 scoop(18.1g) thoroughly in 6 oz of water and consume 30 minutes before workout on an empty stomach.
WARNINGS
Warnings: Not intended for use by persons under the age of 18. Do not exceed recommended dose. Do not use if pregnant or nursing. Do not consume caffeine from other sources, including but not limited to, coffee, tea, soda and other dietary supplements or medications containing phenylephrine or caffeine. Consult with your physician prior to use if you are taking medication including, but not limited to MAO inhibitors, antidepressants, aspirin, nonsteroidal anti-inflammatory drugs or products containing ephedrine, pseudoephedrine, or other stimulants. Consult your physician prior to use if you have a medical condition, including but not limited to, heart, liver, kidney, or thyroid disease, psychiatric or epileptic disorders, difficulty urinating, diabetes, high blood pressure, cardiac arrhythmia, recurrent headaches, enlarged prostate or glaucoma. Discontinue 4 weeks prior to surgery or if you experience rapid heartbeat, dizziness, severe headache or shortness of breath.