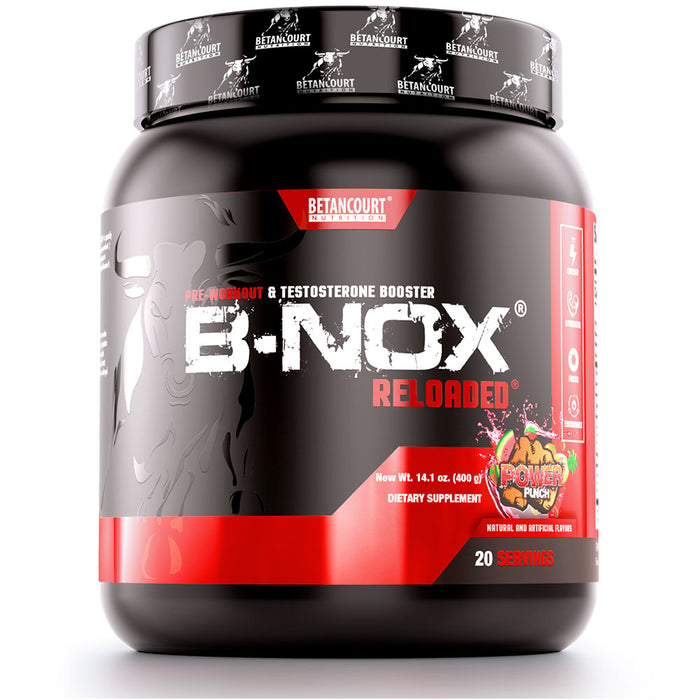 Betancourt Nutrition B-Nox Reloaded
Sold out
Original price
$35.99
-
Original price
$35.99
Free 30 Day Returns

Free Shipping Over $50

Pay in 4 With Afterpay
Unleash Your Power with Clinically Dosed Ingredients
Elevate your gym performance to the next level with our science-backed formula, containing clinically dosed ingredients like CarnoSyn® Beta-Alanine and L-Citrulline. These potent components are known to enhance muscular endurance and promote nitric oxide production in the body during exercise. Don't just work out – optimize every movement, every rep, every moment of your fitness journey.
Clean Energy and Laser Sharp Focus
Experience an incredible boost of clean, sustainable energy and laser-sharp focus from our Energy + Focus Blend. This powerful blend combines Caffeine Anhydrous, Green Tea Leaf, and Green Coffee Bean for a triple caffeine hit. Plus, it includes Teacrine® – structurally similar to caffeine but without the jittery aftermath. Enhance your brain and physical energy, and get ready to conquer every workout session like never before.
Rev Up Your Testosterone, Keep Estrogen in Check
Our Androrush Blend isn't just a name – it's a promise. Made with 100% natural botanicals, this mix supports healthy testosterone levels and keeps estrogen in check. Ingredients like Ashwagandha Root Extract, Tribulus, Maca Root Extract, and Diindolylmethane work in unison to help you maintain favorable estrogen levels while controlling harmful forms. Plus, with BioPerine® for enhanced nutrient absorption, you're set to reap maximum benefits from this testosterone igniter.
Cognitive Enhancement for Your Best Performance
Unlock superior cognitive function with N-Acetyl L-Tyrosine. This natural amino acid boosts cognitive function, supporting the synthesis of dopamine, epinephrine, and norepinephrine, while balancing serotonin levels. With our highly bioavailable form of L-Tyrosine, you'll experience improved focus during your exercise routine, propelling you to achieve your fitness dreams.
DIRECTIONS
Directions: As a dietary supplement, mix 1 (20 g) thoroughly in 6 oz. Of water and consume 30 minutes before a workout on an empty stomach.

WARNINGS
Warnings: Not intended for use by persons under age 18. Do not exceed recommended dose. Do not use if pregnant or nursing. Do not consume caffeine from other sources, including but not limited to, coffee, tea, soda and other dietary supplements or medications containing phenylephrine or caffeine. Consult with your physician prior to use if you are taking medication, including but not limited to MAO inhibitors, antidepressants, aspirin, nonsteroidal anti-inflammatory drugs or products containing ephedrine, pseudoephedrine, or other stimulants. Consult your physician prior to use if you have a medical condition, including but not limited to, heart, liver, kidney, or thyroid disease, psychiatric or epileptic disorders, difficulty urinating, diabetes, high blood pressure, cardiac arrhythmia, recurrent headaches, enlarged prostate or glaucoma. Discontinue 4 weeks prior to surgery or if you have experience rapid heartbeat, dizziness, severe headache or shortness of breath. This product contains a chemical known to the state of California to cause birth defect or other reproductive harm. Keep out of reach of children.