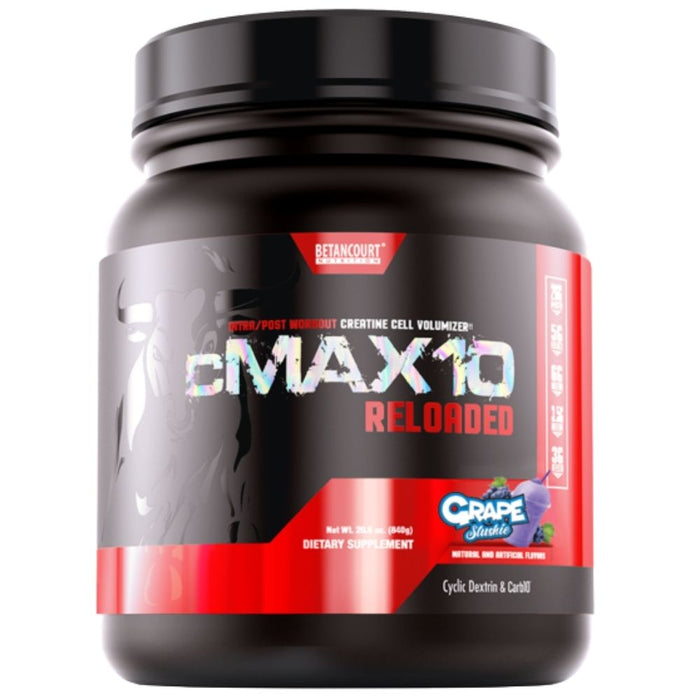 Betancourt Nutrition cMAX-10 Reloaded
Sold out
Original price
$54.99
-
Original price
$54.99
Free 30 Day Returns

Free Shipping Over $50

Pay in 4 With Afterpay
Intra/Post Workout Creatine Cell Volumizer
Scientifically formulated and stacked with premium muscle building ingredients, cMAX10 is ready to take your intra/post workout routing to the next level. Locked and reloaded with 5 grams of Creatine, 6 grams of Amino Acids, 3.5 grams of Essential Amino Acids, 3 grams of BCAAs, Essential Electrolytes, and a powerful 26 gram Carbohydrate glycogen restoration blend, cMAX10 was strategically engineered to support peak muscle growth during and after your intense exercise routine.* Packed with superior muscle building ingredients and flavor, cMAX10 Reloaded is available in two tasty flavors, Grape and Watermelon Slushy. Our powders not only deliver awesome flavors with scientifically studied ingredients, but they're ready to supply quick absorption for potent replenishment.
Advanced Glycogen Restoration Blend - 26 gram Carbohydrate blend consisting of Carb10, Palatinose, Highly Branched Cyclic Dextrin, and Dextrose to provide fast and sustained absorption while avoiding the common insulin spike/crash after exercise. As many supplements offer ingredients that are effective in transitioning key nutrients into muscle cells to replenish glycogen, the side effect of the insulin spike/crash is a natural occurrence. Our Carbohydrate blend is the answer to this mishap. Carb10, which is naturally derived from pea starch, is a fast acting carbohydrate that passes through the body at a rapid pace to enable fast absorption. Palatinose and Cyclic Dextrin are also two naturally sourced carbohydrates that provide similar benefits. As both are fast digesting, Palatinose and Cyclic Dextrin work together to provide a quick/sustained release of glucose into the bloodstream. Our combination of carbohydrates supports peak exercise performance and helps avoid the common insulin spike/crash.*
DIRECTIONS
Directions: Mix One Serving (1 Scoop) With 8 Oz Of Water And Consume During Or After Training.
WARNINGS
Warnings: Keep Out Of Reach Of Children. If You Are Diabetic, Pregnant Or Nursing, Taking Medications Or Unaware Of Your Current Health Status, Consult A Physician Before Use. If You Have A Current Health Condition You Should Also Seek A Physician Before Use. Discontinue Use If Adverse Reactions Occur. Store In A Cool Dry Place. Tamper Evident-Do Not Use If Outer Seal Is Broken Or Missing. Storage: Product Is Packaged By Weight Rather Than Volume, Some Settling Of The Contents May Occur.