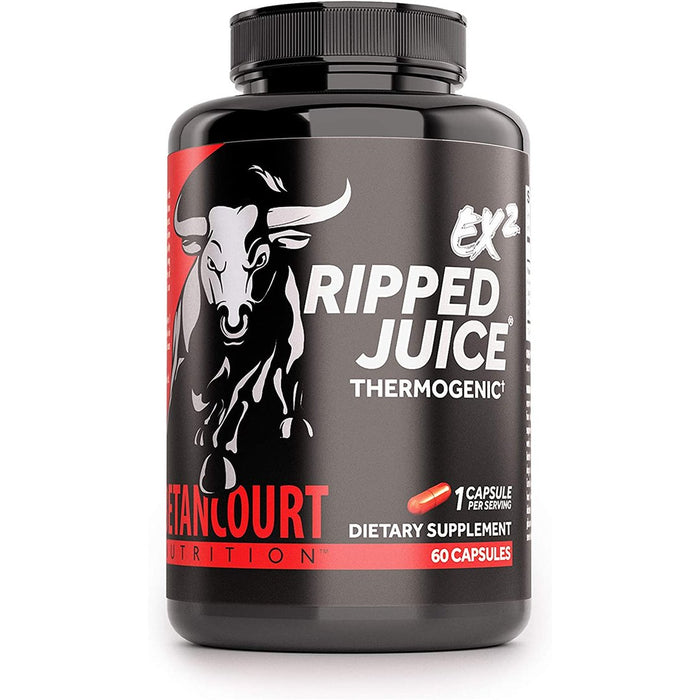 Betancourt Nutrition Ripped Juice EX2
Sold out
Original price
$34.99
-
Original price
$34.99
Free 30 Day Returns

Free Shipping Over $50

Pay in 4 With Afterpay
Ripped Juice Thermogenic Fat Burner

The Evolution of Fat-loss
Melt away fat while giving yourself the energy and alertness you need to own each and every day. Supercharge thermogenesis, boost focus, hold off cravings, and give yourself the motivation you need to achieve your best.
Induces Thermogenesis
When you burn calories, your body heats up and Betancourt Ripped Juice thermogenic is fuel for the fire. Burn fat faster by kickstarting your metabolism.
Regulates Appetite
Control and regulate your food cravings, suppress your appetite, and achieve your fitness goals with one capsule.
Boost Energy

Give yourself supercharged motivation and laser-like focus, all while burning fat and keeping those food cravings at bay.
Our Mission
Betancourt Nutrition is the premier online health and wellness destination dedicated to offering only the best bodybuilding and sports supplements. Our customers push the limits of what sports nutrition can do for their physique, and we know that no level of flare or marketing can replace products that truly taste good and work!
DIRECTIONS
Directions: As a dietary supplement, consume 1 capsule in between meals. Advanced users may consume 1 capsule in the morning and 1 capsule in the afternoon. Do not take within 6 hours of sleep. Do not exceed two capsules in a 24-hour period.
WARNINGS
Warnings: Not intended for use by persons under the age of 18. Do not exceed recommended dose. Do not use if pregnant or nursing. Do not consume synephrine or caffeine from other sources, including but not limited to: coffee, tea, soda and other dietary supplements or medications containing phenylephrine or caffeine. Do not use for more than 8 weeks. Consult with your physician prior to use if you are taking medication, including but not limited to: MAO inhibitors, antidepressants, ibuprofen, aspirin, non-steroidal anti-inflammatory drugs or products containing phenylephrine, ephedrine, pseudoephedrine, or other stimulants. Consult your physician prior to use if you have a medical condition, including but not limited to: heart, liver, kidney or thyroid disease, psychiatric or epileptic disorders, difficulty urinating, diabetes, high blood pressure, cardiac arrhythmia, recurrent headaches, enlarged prostate or glaucoma. Discontinue 4 weeks prior to surgery or if you experience rapid heartbeat, dizziness, severe headache or shortness of breath.