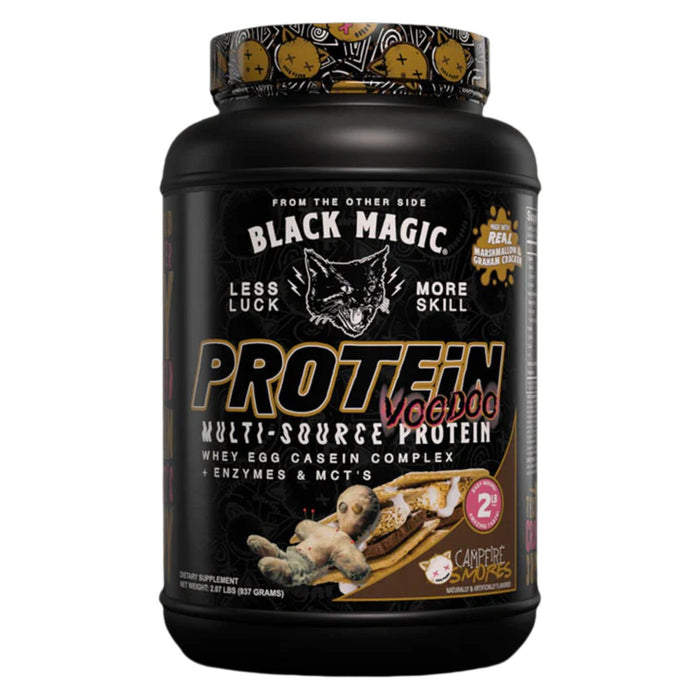 Black Magic Protein Voodoo
Save

0

%
Save %
Original price
$44.99
-
Original price
$44.99
Free 30 Day Returns

Free Shipping Over $50

Pay in 4 With Afterpay
Delve into the mystical realm of strength with our Limited Edition Black Magic Supply Multi-Source Protein in the enchanting Campfire S'mores flavor. This bewitching blend isn't just fuel; it's a rite of passage to monumental muscle growth and rapid recovery, crafted for the dauntless.
Black Magic Protein Voodoo Benefits
Muscle Sorcery: A potent spell of whey isolate, micellar casein, and egg albumin converges to build formidable muscle, weaving an anabolic state that defies the mortal plateau.
Recovery Enchantment: Imbued with the restorative power of MCTs, this potion safeguards your hard-earned muscle, knitting fibers with a recovery charm that works in the shadows.
Taste of the Occult: The Campfire S'mores flavor is a tribute to the arcane, a reward for those bold enough to embrace the Voodoo. It's not just protein; it's a nostalgic journey to the nights where magic seemed real.
Extended Spellwork: The sustained release of nourishment ensures your muscles are continuously enchanted, long after the witching hour workouts.
Limited Brew: This concoction is fleeting, available only to those who act before the portal closes. Will you secure the magic?
Dare to invoke the power within with our protein Voodoo. It's not just strength you'll gain; it's a mystical alliance. But hurry - magic this potent doesn't linger in the mortal realm for long!
DIRECTIONS
Mix 1-2 Scoops in approximately 6-8 oz. water or milk with a shaker cup until completely dispersed. Use before or after workouts and can also be used when protein consumption is desired.
WARNINGS