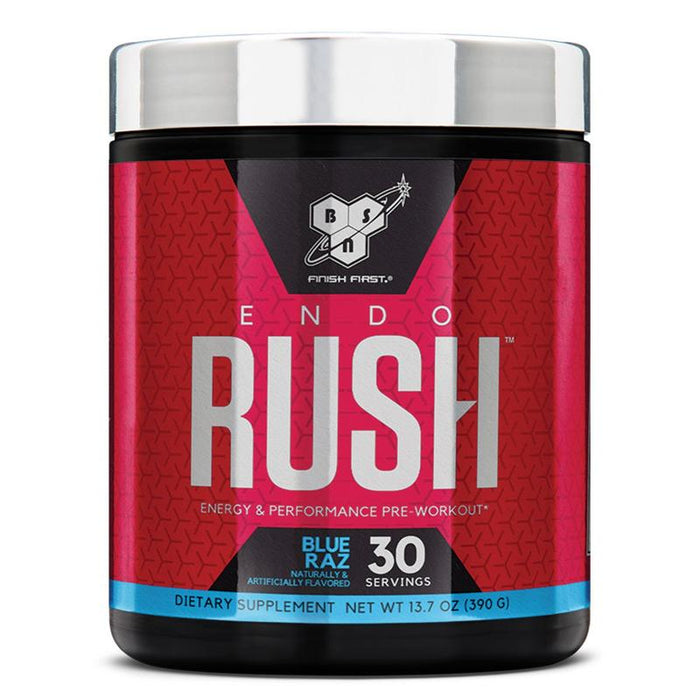 BSN EndoRush
Sold out
Original price
$37.99
-
Original price
$37.99
Free 30 Day Returns

Free Shipping Over $50

Pay in 4 With Afterpay
ENERGY AND PERFORMANCE PRE-WORKOUT
Inspired by a pre-workout legend. Equipped with a 100% transparent label. Armed with only necessary ingredients. A new era in performance starts now. Introducing our most advanced pre-workout formula—a potent combination of tried and true ingredients to help deliver our most powerful training experience ever. 
LEGENDARY ENERGY & PERFORMANCE
Legends never settle. They seek out the best. And they know getting to the top requires unrelenting discipline from within. The ancient Greeks called this "Endo" – meaning internal. We call it ENDORUSH, a pre-workout designed to help fuel the internal drive of performance athletes ready to rise to the challenge ahead.
OUTRUSH YOUR OPPONENT
It takes nothing to be like the rest. It takes everything to stand alone at the top. Rush to victory with the advanced formula in ENDORUSH®, featuring 3g Creatine Monohydrate, 1g Creatine Nitrate, 1.6g of Beta-Alanine, Longan "Euphoria" Extract and VELOX  Patented Pump Technology. Plus, reap the rewards of intense energy and focus* from 300mg of caffeine. Unstoppable performance starts from within.
DIRECTIONS
Directions: Mix 1 scoop with 5-6 fl. oz. of water and consume 15-30 minutes prior to workout. To support hydration, drink plenty of water throughout your workout.
WARNINGS
Warnings: Total Caffeine from all sources is equal to 300 mg per serving. WARNING: Consult your physician before using this product if you are taking any medication or are under a physician's care for a medical condition. Not for use by those under the age of 18, women that are pregnant, trying to get pregnant, or nursing, or those that are sensitive to Beta-Alanine, Caffeine or Niacin. Do not consume Caffeine from other sources while taking this product as too much Caffeine may cause nervousness, irritability, sleeplessness, and occasionally rapid heartbeat. Beta-Alanine and Niacin may cause a harmless, temporary tingling or flushing sensation. Do not combine with alcohol. Do not exceed 1 serving within any 24 hour period. Consume as part of a healthy diet and exercise program and drink at least 100 fl. oz. of water per day. Exercise may increase your need for fluid intake. Store in a cool, dry place away from direct sunlight.