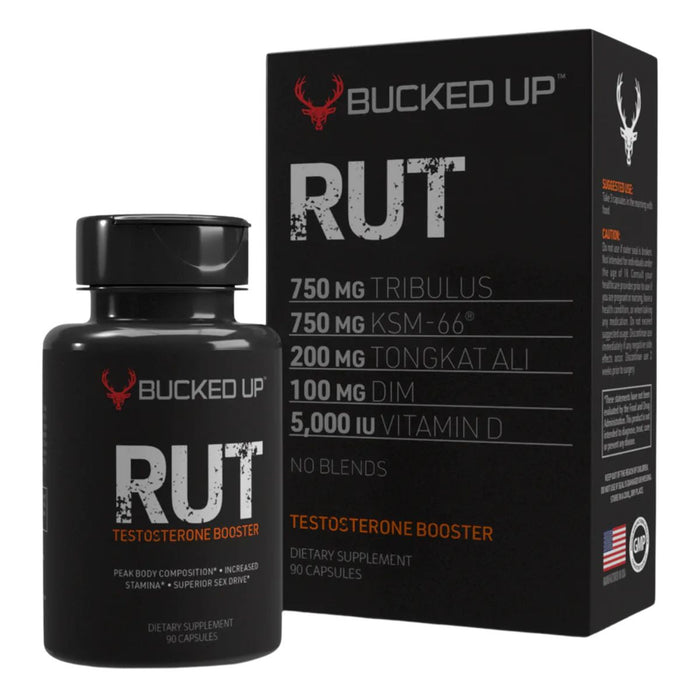 Bucked Up RUT
Save

0

%
Save %
Original price
$69.99
-
Original price
$69.99
Free 30 Day Returns

Free Shipping Over $50

Pay in 4 With Afterpay
RUT Testosterone Booster is for the superior man. The man who refuses to accept anything less than glory. In the gym, business, bedroom, and life. However, when hormones like natural testosterone aren't at healthy levels, even the most driven man can be slowed -- or worse, stopped entirely.
At BUCKED UP, we understand the power of hormones ; they can propel you to greatness or keep it out of reach. RUT Testosterone Booster is formulated with clinically dosed ingredients to help you close the gap between where you're at and your goals. You have to make the climb, but RUT can imbue you with the powers necessary to rise above:
Peak body composition
Increased stamina
Superior libido
Hormone health
Maximized vitality
RUT accomplishes these feats in several ways, starting by including vitamins like D3, iron, and zinc, to make sure you aren't deficient in these crucial players in hormone health. We have the highest dose on the market of Ashwagandha (KSM-66), a super supplement clinically shown to help with stress hormones. RUT uses the holistic supplement Tongkat Ali for stamina and libido, as well as DIM for estrogen metabolization.
The combination of these key ingredients -- along with the other powerhouses in RUT -- can help you build the body and life you want. After all, everyone knows the time to conquer and destroy is long past. Today, the truly powerful men build, conquer, then rebuild. Better, stronger, smarter. RUT Testosterone Booster is designed to help you maximize the goals needed for our time. It's up to you to do the rest. Build and conquer, gentlemen. The time is yours.
DIRECTIONS
Directions: Take 3 capsules in the morning with food.

WARNINGS
Warnings: Do not use if outer seal is broken. Not intended for individuals under the age of 18. Consult your healthcare provider prior to use if you are pregnant or nursing, have a health condition, or when taking any medication. Do not exceed suggested usage. Discontinue use immediately if any negative side effects occur. Discontinue use 2 weeks prior to surgery.