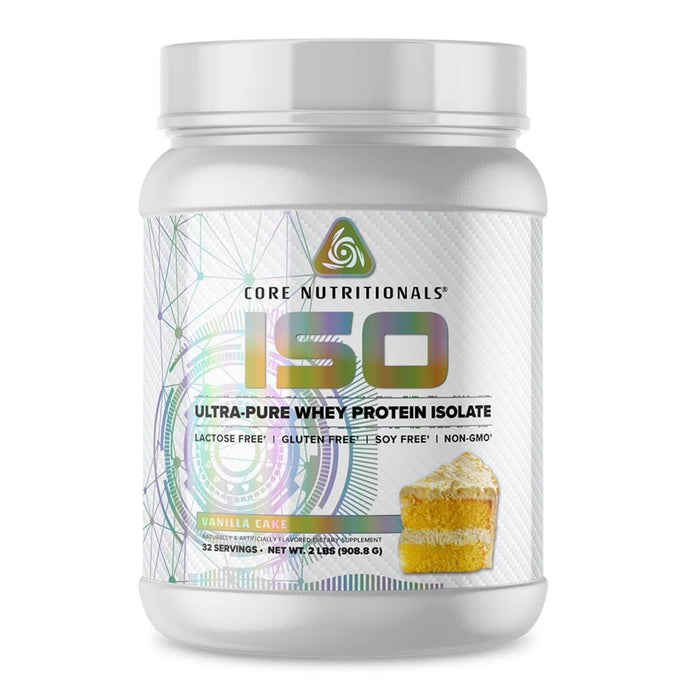 Core Nutritionals Core Iso
Sold out
Original price
$54.99
-
Original price
$54.99
Free 30 Day Returns

Free Shipping Over $50

Pay in 4 With Afterpay
Ultra Pure Whey Protein Isolate
Your workout is the jungle. Whey isolate is the lion – its King.
Core ISO is, simply put, the pinnacle. Our protein's quality, level of purity, and most importantly, gourmet taste, make drinking a shake your favorite and most effective part of your training day!
1 scoop per serving.
48 servings per container.
Purest protein available.
If the post-workout environment were a jungle, whey protein isolate (WPI) would be the lion – its king. Newer proteins enter into the market, receive fanfare and applause, and then inevitably fall out of favor. WPI, however, is the U.S. Dollar, Greenwich Mean Time, or Michael Jordan's dunking prowess: it is the reference standard against which everything else is measured. The success or efficacy of all other proteins is gauged relative to what the one true king, WPI, has previously done.
So, given WPI's long-standing Elvis status, there is simply no way it could be improved on. Right? Wrong. Amino-filled and/or spiked, low quality, low purity WPI formulas still run rampant on the market – robbing consumers of what they should be receiving, and exchanging the king for a jester.
That has never been Core's approach, and it never will be. With Core ISO, we have developed the purest, highest-quality, least-adulterated WPI product on the market. We have taken the highest purity, non-instantiated, non-soy, non-GMO whey protein isolate available, and essentially added nothing to it: we have added no sugars, making it the perfect versatile protein; and we have added no artificial colors, meaning you can feel good about drinking it.
Did we mention we use natural flavoring? And Oh. My. Goodness, what flavoring it is! While the bitterness of WPI overcomes most brand's offering, and results in a dull, palette-killing powder you need to choke down, Core ISO tastes like a gourmet pastry chef set up shop, on your tongue, and started making soufflés like nobody's business.
Core ISO is, simply put, the pinnacle. Our protein's quality and level of purity transcends it to the level of being a necessity; a part of your supplement and training setup that is simply assumed to be there, because it must be there. So, if you are already taking or planning to use protein, why not use the version of the standard that rises above the rest?
DIRECTIONS
Directions: Add 1 scoop to 6-8 ounces of cold water and shake or stir until mixed.