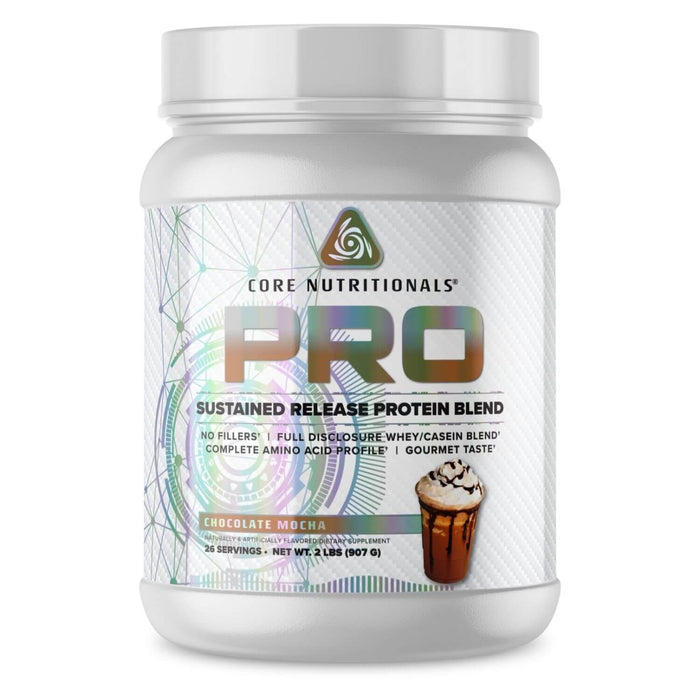 Core Nutritionals Core Pro
Sold out
Original price
$49.99
-
Original price
$49.99
Free 30 Day Returns

Free Shipping Over $50

Pay in 4 With Afterpay
Sustained Release Protein Blend
You want to recover. You don't want to gag while doing it.
We chose the protein blend and taste for Core PRO with that in mind. Our mix of proteins have a robust and complete amino acid profile that has been shown in research to increase lean muscle impact – while our flavoring tastes like a cheat!
1 scoops per serving.
28 (2LB)/70 (5LB) servings per container.
Protein blend with gourmet taste.
What do you look for in a protein supplement? More importantly, what should you look for? Let's be honest: in 2020, taste is paramount to the experience. Amazing taste was our priority for the reformulation of Core PRO – and we succeeded beyond our wildest dreams, if we say so ourselves.
But this is Core Nutritionals, meaning that function must always match taste and form. Core PRO is no different. While the protein blend in Core PRO was always industry-leading, we have made it even better. Our blend of whey concentrate, whey isolate, and milk protein isolate delivers smooth texture, fast and slow-digesting proteins, and a complete amino acid profile that suits your needs. In other words, have perfected the marriage of TASTE AND PERFORMANCE, and the result is Core PRO.
Core PRO is a clinical-strength, sustained release protein formula, specifically designed to keep you fueled with the right growth/recovery agents over extended periods of time. This innovative blend provides the perfect arrangement of both fast-uptake and sustained-release proteins, from superior cold-processed whey proteins and micellar casein-rich milk protein sources. This strong synergistic blend helps promote optimal growth and recovery by providing the vital building blocks your body needs, exactly when you need them most. Our superior protein blend contains a generous array of BCAAs (branched-chain amino acids) in their naturally-occurring biological ratios, to delay fatigue and expedite your recovery.
The benefits don't stop there. To make this the most effective recovery formula available, we've enhanced it with a powerful digestive enzyme blend, including protein-digesting proteases, to improve absorption and accelerate nutrient uptake. The beneficial fatty acids from MCTs (medium chain triglycerides) in Core PRO help preserve lean mass while unleashing your body's natural metabolic potential. And unlike some formulas, you never have to worry about taking it at the wrong time. Staying fueled all day or overnight never tasted so good!
DIRECTIONS
Directions: Add 1 scoop to 6-8 ounces of cold water and shake or stir until mixed.