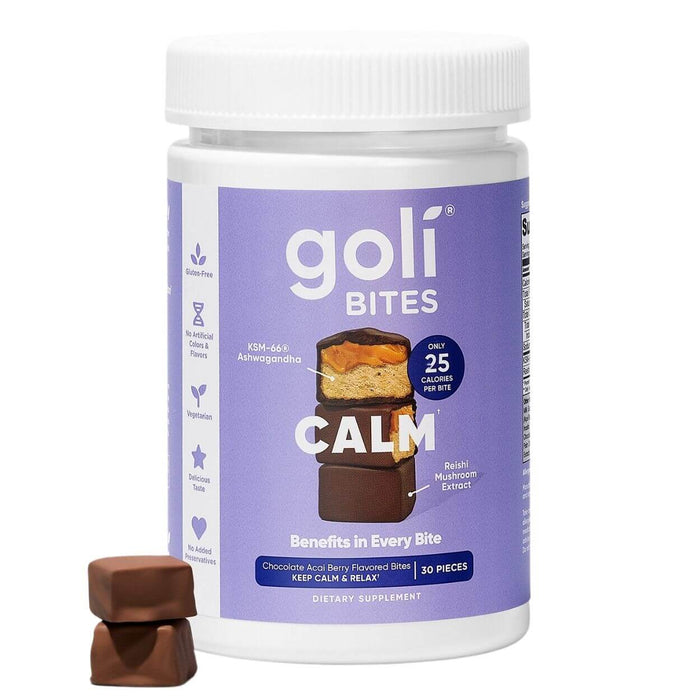 Goli Calm Bites
Sold out
Original price
$14.00
-
Original price
$14.00
Free 30 Day Returns

Free Shipping Over $50

Pay in 4 With Afterpay
A Holistic Chocolatey Bite for Daily Calm. The yummiest way to stay zen, balanced and calm. Catch some much needed quality Zzzz's, deliciously with Goli Calm Bites, made with KSM-66 Ashwagandha.

Ingredients You Can Pronounce. Benefits You Can Enjoy. Made with KSM-66 Ashwagandha and Reishi Mushroom Extract. KSM-66 Ashwagandha, a powerful, full-spectrum ashwagandha root only extract has been clinically studied and shown to help Reduce Stress & Promote Relaxation, Lower Cortisol Levels, Control Stress-Related Food Cravings, Reduce & Maintain Healthy Body Weight, Improve Quality of Sleep, Improve Sexual Function, Help with Concentration & Memory and more.

Biteable Benefits. Daily Routine Made Sweeter. Treat yourself right, with a bite! Goli Calm Bites were carefully formulated with a delectable chocolate acai flavor profile plus KSM-66 Ashwagandha. You're going to love them!

Vegetarian, Gluten-free & No added preservatives: Each bottle of Goli Calm Bites contains 30 delicious vegetarian & gluten-free chocolate acai flavored bites that are free from added preservatives.