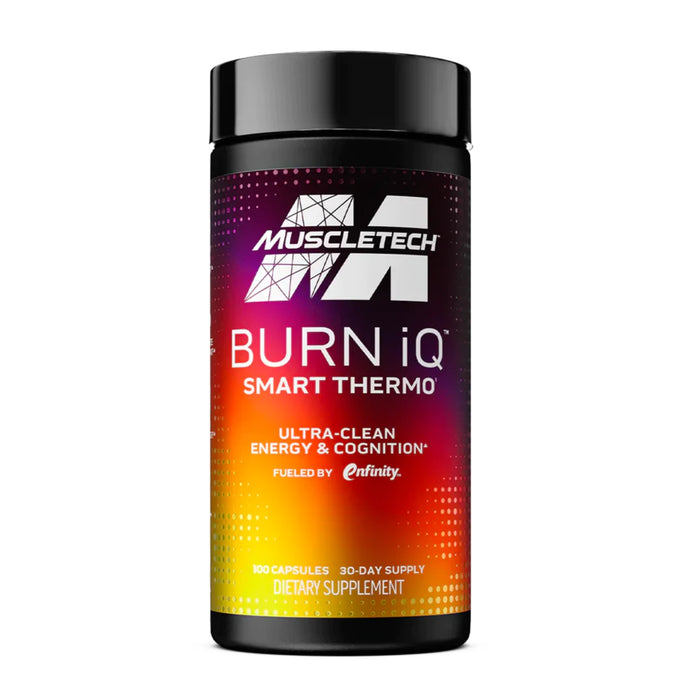 Muscletech Burn iQ Capsules
Save

0

%
Save %
Original price
$59.99
-
Original price
$59.99
Smart Thermogenic Fat Burner
Burn iQ ™ is a new breed of supplement delivering an unparalleled energy and sensory experience. Anchored by a revolutionary energy ingredient, paraxanthine, this formula delivers clean, smooth energy, cognition, and increased focus. As well, a key ingredient delivers advanced weight loss with this first-of-its-kind hybrid formula.
Benefits
Ultra Clean Energy & Cognition
Fueled by Enfinity™
Axivite™ Brings the Heat¹
Metabolize Carbs & Fat²
2x the Weight Loss³
The Smartest Way to a Shredded Physique
Burn iQ™ is built for those who want a smarter way to get shredded and smash their fitness goals.3 enfinity® delivers pure paraxanthine for:
Optimized Energy
Clean Cognition
Sustained Attention
Key ingredients in BURN iQ™ were shown to support certain aspects of accuracy and reaction time in a battery of tests designed to assess focus and cognitive function. 
¹Thermo: relating to heat. Burn in BURN iQ™ refers to the warming sensation that engulfs your body as aXivite™ enters your system.
²Contains B vitamins to help metabolize carbs, proteins and fats.
³Subjects taking the key weight-loss ingredient (C. canephora robusta for 60 days lost an average of 10.95 lbs. vs. the placebo group, which lost an average of 5.40 lbs. Both groups followed a low-calorie diet, In a separate 8-week study, subjects taking C. canephora robusta lost an average of 3.7 lbs. vs. the placebo group, which lost an average of 1.25 lbs. Both groups followed a calorie reduced diet and performed moderate exercise.
DIRECTIONS
To get started, assess your tolerance by taking 1 capsule with 8 oz. of water. Once you've determined your tolerance level, follow these guidelines:
For weight loss: Take 1 capsule twice daily, 30 to 60 minutes before your two largest meals of the day. For optimal results, continue using it for 60 days alongside a balanced diet and regular exercise.
For increased energy: Take 3 capsules 30 minutes before your training session. Avoid exceeding 3 capsules within 24 hours.
When to take it: For enhanced energy, consume 30 minutes before your workout. For weight loss purposes, take 30 minutes before your two largest meals of the day.
WARNINGS
For adult use only. Do not use this product if you are pregnant or nursing, or have heart disorders, high blood pressure, sleep disorders, anxiety, or gastric ulcers. Consult with a physician before using this product if you have been treated for, diagnosed with, or have a family history of any medical condition, or if you are using any prescription or over-the-counter medications, and before starting any diet or exercise program. The paraxanthine in one serving of this product is equivalent to the amount typically metabolized in over 1 cup of coffee. Do not combine with other sources of stimulants, including caffeine. Discontinue use two weeks before surgery. Keep out of reach of children.