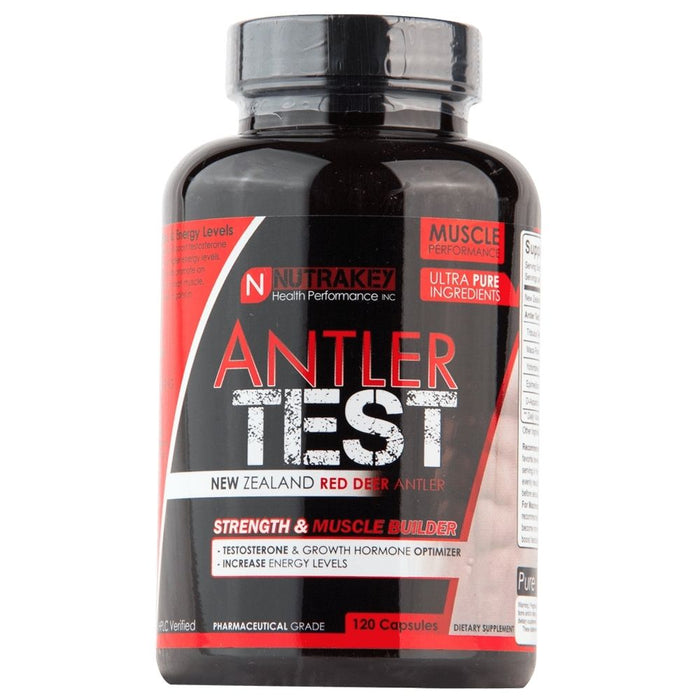 NutraKey Antler Test
Sold out
Original price
$35.99
-
Original price
$35.99
Free 30 Day Returns

Free Shipping Over $50

Pay in 4 With Afterpay
Increased Energy, Endurance, and Stamina

Antler Test Complex was designed to increase Hormone levels and boost testosterone. Resulting in a lean, hard, muscular look, with increased strength and higher energy levels. Studies show that effective dosages of pure active compounds promoted an overall increase testosterone levels which are important for lean muscle, vibrant energy, and sexual health. Use Nutrakey Antler Test to elevate testosterone levels which lead to gains in strength and vigor while reducing recovery time.
• Testosterone Booster.
• Increase, energy, endurance, & Stamina.
• Supports lean, hard, muscular look.
• Stimulate sexual drive & sense of well-being.
• Elevated hormone levels.
• Increased testosterone levels have a positive effect on strength, stamina, lean muscle retention, and fat loss.
DIRECTIONS
Directions: Take 2 capsules twice daily preferably on an empty stomach. For best results take 2 capsules in the morning and 2 capsules mid-day or evening. Spreading dose times evenly results in sustained levels of active compounds. Take 40-60 minutes before sexual activity for added performance.

For best results take for at least 4 to 8 consecutive weeks. It is recommended to cycle off periodically. This allows receptors time to readjust and become more sensitive. Cycling is generally used as an effective way to boost testosterone levels long term.