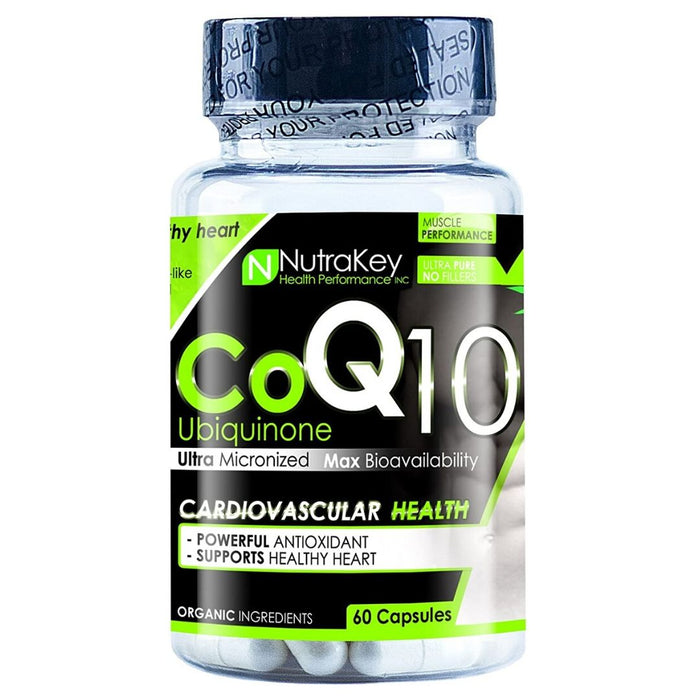 Nutrakey CoQ10
Sold out
Original price
$13.99
-
Original price
$13.99
Free 30 Day Returns

Free Shipping Over $50

Pay in 4 With Afterpay
Cardiovascular Health. Powerful antioxidant.
Supports healthy heart. This vital antioxidant supports a healthy heart and cellular energy production. Coenzyme Q10 (CoQ10) is a fat-soluble, vitamin-like compound. It is found in every cell of the body and functions as a powerful antioxidant to help protect cells from free radical damage. Free radicals attack healthy cells, damaging their membranes, DNA, and other components, compromising normal cell function. Vital to cellular energy production. Powerful antioxidant boosts health. Supports healthy heart function. Aids in stabilizing free radicals. While the body produces CoQ10 on its own, levels decline over time, with a steady decrease beginning after age 30.

DIRECTIONS
Directions: Take 1 capsule (50 mg) with water or your favorite beverage twice daily on an empty stomach. Take first dose in the morning & second dose one hour prior to lunch.
WARNINGS
Warnings: Pregnant or lactating women, diabetics, hypoglycemics, & people with known medical conditions and/or taking drugs should consult with a licensed physician and/or pharmacist prior to taking dietary supplement. Hypoallergenic: Contains no yeast, dairy, egg, gluten, corn, soy, wheat, sugar, starch, salt, preservatives, or artificial color, flavor, or fragrance.