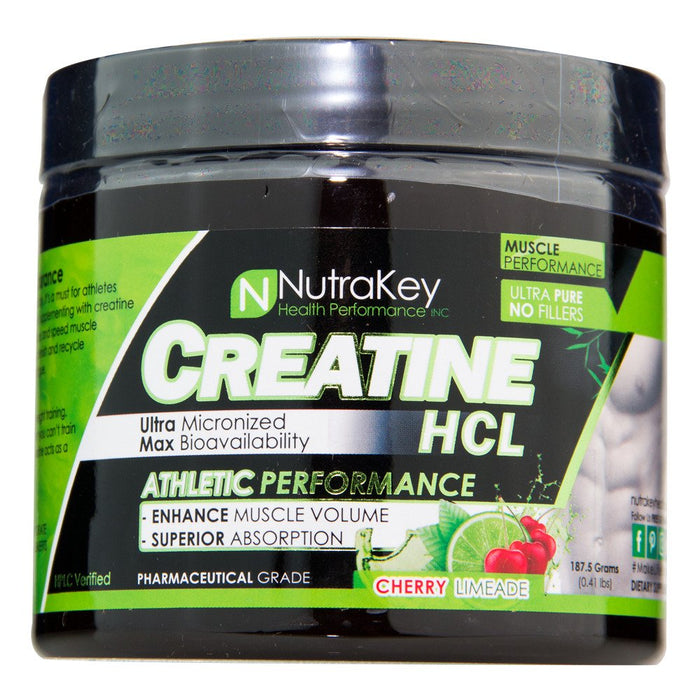 Nutrakey Creatine HCL
Sold out
Original price
$31.99
-
Original price
$31.99
Free 30 Day Returns

Free Shipping Over $50

Pay in 4 With Afterpay
Creatine HCL
Creatine boosts muscle size, strength, and endurance. Creatine is one of the most researched and important sports supplement today. It's a must for athletes wanting to increase workout intensity and delay fatigue.
Increased Strength and Enduracne
Research has shown supplementing with creatine can boost muscle size, strength and endurance, improve athletic performance, and speed muscle recovery. Saturating muscles with creatine improves your ability to quickly replenish and recycle ATP, which increases muscle energy and delays fatigue.
Creatine Improves Exercise Recovery Time
Lactic acid is a by-product of anaerobic (without oxygen) exercise such as weight training. Lactic acid is responsible for the 'burning' sensation from muscle fatigue. When you can't train anymore, it's due to having run out of energy or a buildup of lactic acid. Creatine acts as a buffer against lactic acid, which helps to delay the onset of fatigue.
Why Creatine HCL?
Superior absorption over creatine monohydrate. Lower dosage needed to deliver maximum benefits. No bloating or water retention.
Ulta Micronized
Max Bioavailability
Athletic Performance
Enhance Muscle Volume
Superior Absorption
Ultra Pure No Filler
DIRECTIONS
Directions: As a dietary supplement, take 1 level scoop per 100 pounds of body weight 1 hour prior to training. Mix with approximately 8-12 ounces of water or your favorite beverage. Creatine HCL can be taken on empty stomach or with food.
WARNINGS
Warnings: Pregnant or lactating women, diabetics, hypoglycemic, and people with known medical conditions and/or taking drugs should consult with a licensed physician and/or pharmacist prior to taking dietary supplements. Do not use if safety seal is broken. Hypoallergenic: contains no yeast, diary, egg, gluten, corn, soy, wheat, sugar, starch, preservatives, or artificial color.