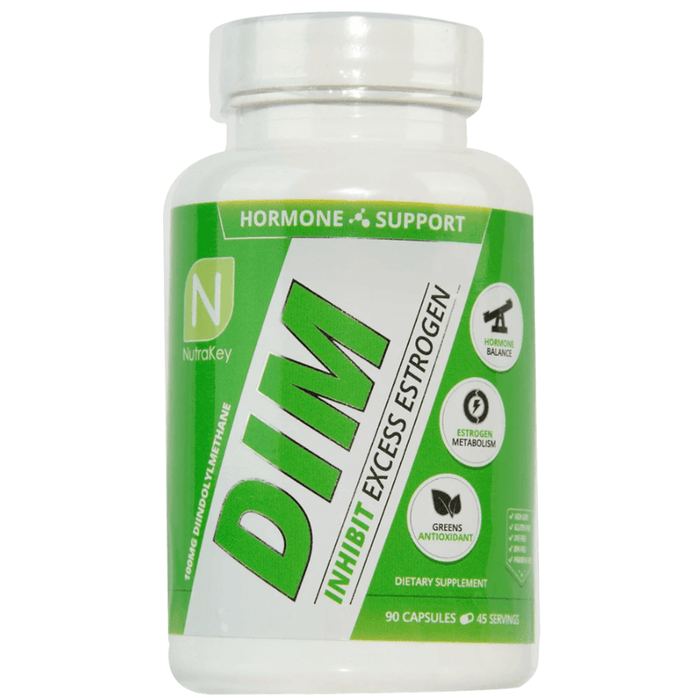 Nutrakey DIM
Sold out
Original price
$23.99
-
Original price
$23.99
Free 30 Day Returns

Free Shipping Over $50

Pay in 4 With Afterpay
Keep Estrogen In Check
Optimize your body's ability to build lean mass and burn fat by promoting estrogen metabolism. Produced from a natural compound found in cruciferous vegetables like broccoli, Brussels sprouts, and cabbage, DIM (Diindoylmethane) acts to balance hormone levels in both men and women by activating enzymes that breakdown excess estrogen. In addition, DIM also acts as a powerful antioxidant by reducing the damage caused by free radicals throughout the body – especially during times of physical stress like intense exercise.
MEN – INCREASED MUSCLE, STRENGTH, AND ENERGY
For males wanting to increase strength and lean mass, the anti-testosterone effects of estrogen can negate even the highest levels of testosterone. The effects of elevated estrogen levels can include increased fat storage, bloating, poor sleep, low energy and diminished muscle growth and recovery.*
However, by reducing the relative proportion of estrogen to testosterone, supplementing with DIM has been shown to have a significant impact on the benefits of naturally occurring testosterone. While this doesn't mean you'll necessarily have more free testosterone, it does mean that you'll feel less of the negative consequences of high estrogen levels. As a result, many men taking DIM may experience results that are similar to those taking testosterone boosters.*
Used in conjunction with Testosterone boosters like Antler Test or DAA, DIM can have a significant effect on your estrogen-testosterone ratio while helping prevent estrogen surges in response to increased free testosterone in the bloodstream.*
WOMEN – OPTIMIZE YOUR ESTROGEN LEVELS, AND BURN MORE FAT
While women certainly produce more estrogen than men, excess estrogen can still be a major cause of concern. Balancing your hormone levels may not just mean more efficient use of your time in the gym, but fewer of the negative side effects associated with surplus estrogen. These side effects include bloating, decreased sex drive, headaches, mood swings, weight gain, cold extremities, exhaustion, trouble sleeping, and increased PMS symptoms.*
Better yet, over the past decade, studies have also shown that DIM is one of the most effective treatments and preventative supplements on the market for many hormone dependent cancers (many types of breast cancers included). This makes DIM not only a beneficial supplement to add to your workout routine, but an important part of your long-term health and wellness.*
SUPERIOR ABSORPTION AND RESULTS
Unlike many other forms of DIM, NutraKey DIM has been specially formulated to maximize bioavailability throughout your body. Taken twice daily, DIM is a must have for anyone looking to balance out their hormones and maximize each and every minute in the gym.*
DIRECTIONS
Directions: Take 2 Capsules (100mg) With Water Or Your Favorite Beverage Twice Daily On An Empty Stomach.
WARNINGS
Warnings: Pregnant Or Lactating Women, Diabetics, Hypoglycemic, And People Known With Medical Conditions And/Or Taking Prescription Medication Should Consult With A Licensed Physician And/Or Pharmacist Prior To Taking Dietary Supplements. Do Not Use If Seal Is Broken. Do Not Use If Packaging Has Been Tampered With. Store In A Cool, Dry Place.