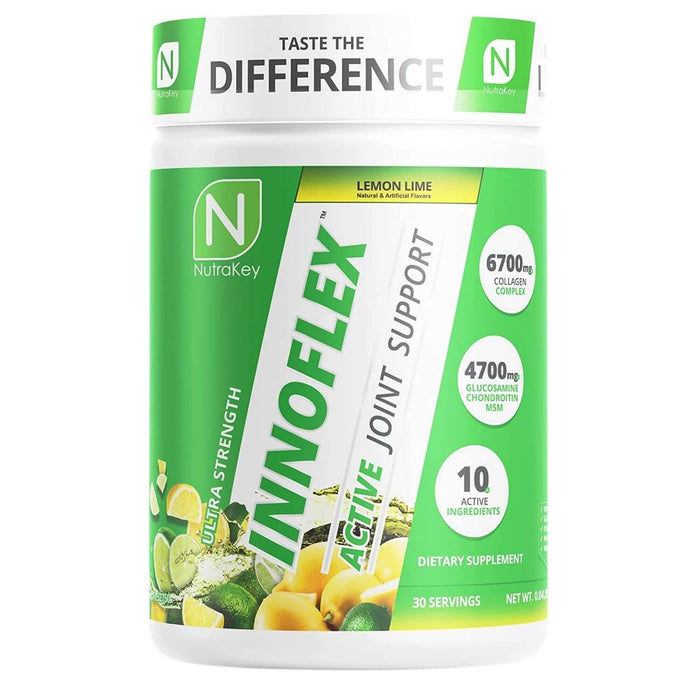 Nutrakey Innoflex
Sold out
Original price
$29.99
-
Original price
$29.99
Free 30 Day Returns

Free Shipping Over $50

Pay in 4 With Afterpay
Active Joint Support
Glucosamine is an amino sugar that is used for healthy joint structures. Chondroitin is naturally found in cartilage, tendons and ligaments where it binds to proteins like collagen and elastin. MSM is one of the major building blocks of glycosaminoglycans. Glycosaminoglycans are key structural components in cartilage that play an important role in the maintenance of joint cartilage.*
The amino acid L-Proline is the only precursor to hydroxyproline, an essential component in the production of collagen. Collagen is the 'cement' which holds together the skin, cartilage, ligaments, tendons and arteries. Vitamin C and the amino acids L-Proline and L-Lysine are essential for the formation of healthy collagen and cartilage. These nutrients help maintain the flexibility of muscles and joints.*
Fast Absorbing, High-potency Joint Complex

Innoflex is designed to be a fast absorbing, high-potency joint complex capable of supporting healthy joint function. Whether you swim, run, occasionally lift weight, bodybuild, or practice yoga, the ingredients in Innoflex can strengthen joint tissues and improve flexibility.
Collagen Production Decreases Significantly with Age
This decrease is the source of a number of serious health issues. Research shows healthy collagen production can be sustained through supplementation and healthy diet habits.
DIRECTIONS
Directions: When To Take: Mornings: Mix 1 Scoop With 8-10 Oz Of Water Before Breakfast For Best Absorption. Between Meals: For Enhanced Support, Mix 1 Scoop with 8-10 Oz Water Mid-Day On An Empty Stomach. Do Not Exceed 2 Scoops Daily.
WARNINGS
Warnings: Allergen: Contains Glucosamine Obtained From Shellfish (Shrimp, Crab, Lobster, Crayfish).