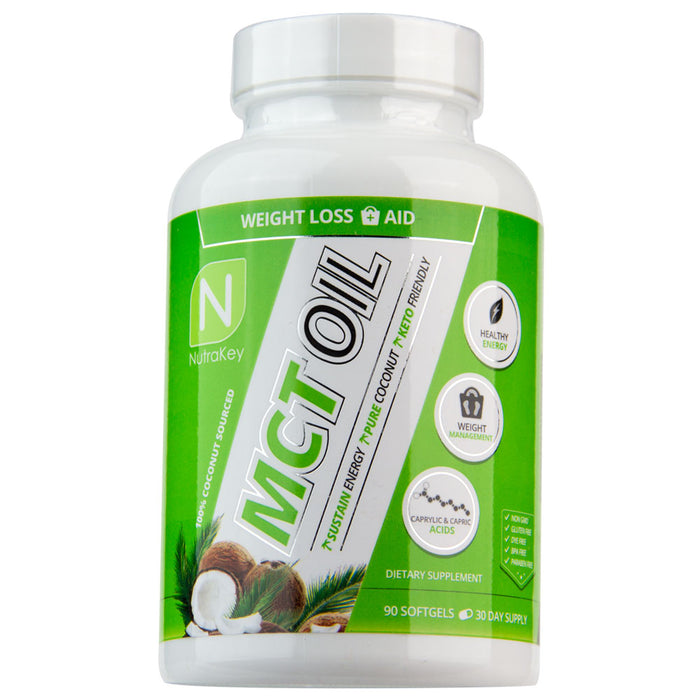 Nutrakey MCT Oil
Sold out
Original price
$17.99
-
Original price
$28.99
Free 30 Day Returns

Free Shipping Over $50

Pay in 4 With Afterpay
Keto Friendly Weight Loss Aid
Medium Chain Triglycerides (MCTs) are a source of clean fuel for the body. MCTs can be found naturally in Coconut Oil, Palm Kernel Oil, and various dairy products. Supplementing with MCT Oil can provide a healthy source of energy for metabolism, and is especially useful for calorie restricted diets.
Medium Chain Triglycerides are a particular type of fat that requires minimal effort from your liver to convert into energy, in the form of ketones. For those on a ketogenic or low carb diet, MCT oil is THE superfood! It helps get you into ketosis quickly and works great to kick start a weight management program. Soft-gels are much easier to digest than MCT in liquid form, which is particularly good if you're new to MCT!*
WEIGHT MANAGEMENT
MCTs are easily digested, and offer immediate fuel for energy rather than becoming calories stored as fat. Using MCT Oil as fuel can help satisfy cravings. MCT Oil can be easily added to your daily routine as a source of clean fuel:
Coffee
Add a serving of MCT Oil in your morning coffee for sustained energy.
Smoothies
Improve the nutritional profile of your smoothie by adding MCT Oil.
Salads
Add a healthy boost to your favorite salad dressing by substituting traditional oils with MCT Oil.
BETTER TOGETHER
For best results, take MCT Oil twice daily with NutraKey Liquid L-Carnitine 3000 and give your metabolism a 2X BOOST!
Frequently Asked Questions
WHERE IS THIS MANUFACTURED?
All NutraKey products are manufactured in our state-of-the-art facility with its headquarters in Orlando, Florida.

IS IT SUGAR FREE?
Yes, NutraKey MCT Oil is sugar free.

DO THE SOFT-GELS NEED TO BE REFRIGERATED?
No, they do not need to be refrigerated. Store in a cool dry place!
DIRECTIONS
Directions: Take 1 serving (3 softgels) with water or your favorite beverage once daily at mealtime. For supercharged results take 2-3 servings daily. To maximize your results, drink at least 64 ounces of water daily while using this product.
WARNINGS
Warnings: Contains Tree Nuts (Coconut). Do not use if packaging has been tampered with. Store in a cool, dry place.