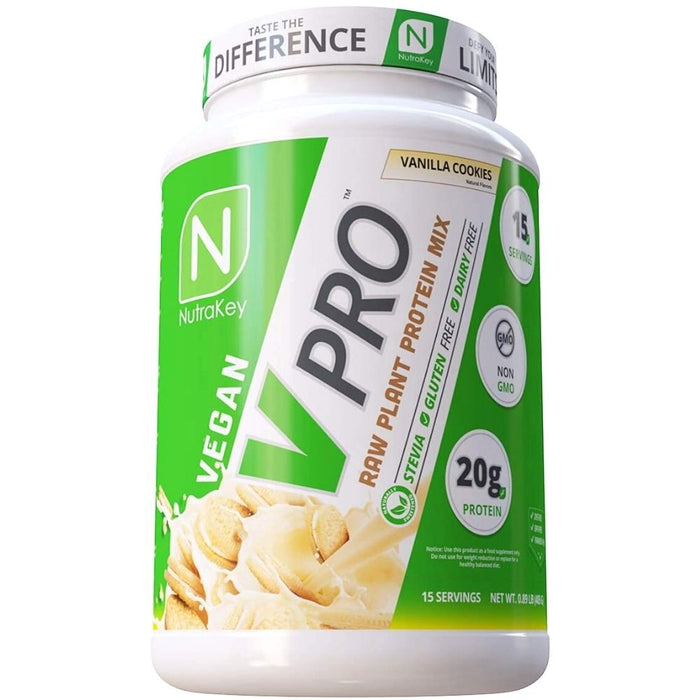 Nutrakey V Pro
Sold out
Original price
$22.99
-
Original price
$37.99
Free 30 Day Returns

Free Shipping Over $50

Pay in 4 With Afterpay
PERFECTLY DESIGNED

Conveniently provide all your needed protein, essential vitamins and and minerals. We've done the research for you, so you can thrive living a plant-based lifestyle. Help you stay focused and energized, Fuel your workouts so you can excel, Keep you satisfied and stave off cravings.* 
6 SOURCES OF RAW PLANT PROTEIN
V Pro delivers the right combination of vitamins and minerals your body needs to fully absorb and use our pure plant-based proteins.* Instead of limiting our sources to things like pea protein isolate, we carefully craft each blend using nature's wisdom. V Pro's comprehensive ingredient profile includes 6 key plant sources to provide proper nutrition:
Spirulina
Packing 22 amino acids, essential trace minerals, and up to 70% of its weight in protein, Spirulina is a nutritional powerhouse that earns the title superfood.
Artichoke
Loaded with phytonutrients, artichokes provide a low fat, low cholesterol and low calorie protein source.
Quinoa
Rich in fiber, Magnesium, B vitamins, Iron, Potassium, Calcium, Phosphorus, Vitamin E, and more, quinoa is a fantastic multi-vitamin package. Plus, it packs 8 grams of protein per cup!
Amaranth
As an ancient grain, amaranth provides all 9 essential amino acids, making it a complete source of protein.
Pea
Heart-friendly peas are rich in arginine, which supports muscle growth and circulation. Peas also provide all 9 essential amino acids.
Brown Rice
A hypoallergenic, staple protein source, brown rice is gluten free and low in cholesterol, while also being rich in Manganese, Selenium and Phosphorus.
MAKE LIFE BETTER
We believe a plant-based diet makes optimal health possible for everyone. Proper nutrition is universal, but your story and your body are unique. That's why we've created V Pro to fit the versatility of your lifestyle and deliver all the nutrition you need, in one convenient blend.* Support your journey to health with V Pro, and make life better!
Directions:
 One Scoop To 10-12 Oz Of Chilled Water In A Shaker Cup Or Blender And Mix Thoroughly. Take 1-3 Shakes Daily Or As Your Desired Protein Intake Requires.
Warnings: V Pro Is Made Without Dairy, Soy or Genetically Modified Organism (GMO) Sourced Ingredients. Do Not Use If Seal Is Broken. Store in a Cool, Dry Place. Nature' Grit: V Pro Contains Raw Plant Protein That Has Been Minimally Processed To Maintain Nutritional Integrity, Raw Plant Protein Has A Fibrous Texture, Just Like Nature Intended.