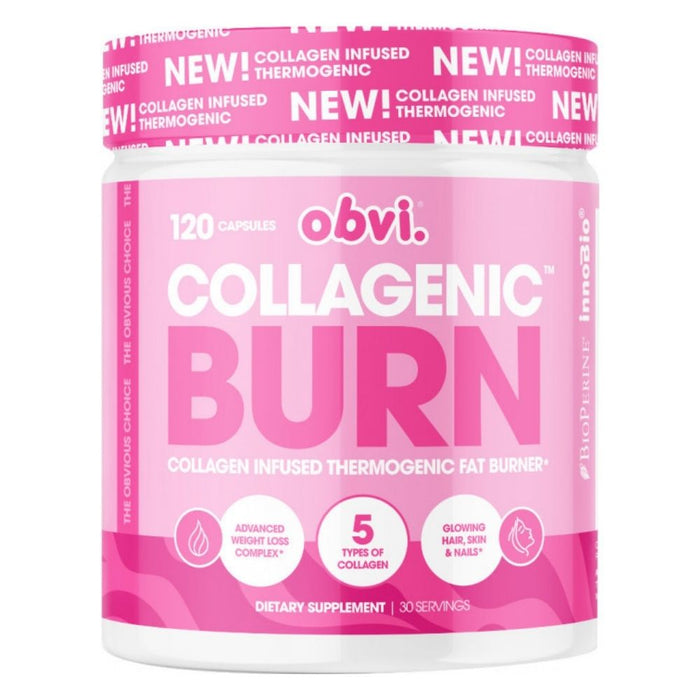 Obvi Collagen Burn
Sold out
Original price
$34.99
-
Original price
$34.99
Free 30 Day Returns

Free Shipping Over $50

Pay in 4 With Afterpay
Thermogenic Fat Burner
The Industry's FIRST thermogenic fat burner infused with 5 Types of Collagen along with 2 patented ingredients: INNOBIO® & BIOPERINE®.
Collagen Burn is infused fortified with extremely powerful ingredients that benefit not only weight loss and fat burning goals but also provide you with energy and collagen supplementation so your hair, skin, nails, joints and gut are healthier than ever.
 Burn the fat all while looking your best, a dynamic duo that many have always asked for, Obvi has finally delivered.
Advanced Weight Loss
Our formula is fortified with powerful weight loss ingredients like Innobio®, Bioperine® & more for rapid results.
Boost Energy
& Mood
Skip your morning coffee and enjoy our 120mg of caffeine with added mood enhancers to help you power through the day
Beautify Hair, Skin, & Nails
Infused with 5 types of Collagen and Biotin, our product will deliver the glow beauty lovers dream about.
Bone & Joint Support
Alleviate nagging joint pain, inflammation and improve overall bone health and flexibility.
Our Bodies Need More Collagen As We Age
After the age of 20, a person produces about 1 percent less collagen in the skin each year. After 30, our natural collagen production begins to decline rapidly. As a result, hair, skin, and nails become thinner and more fragile with age.
It's OBVIOUS you need collagen early in your life, so why wait to fight aging when you can avoid it altogether.
DIRECTIONS
Take two capsules in the morning (breakfast) and two capsules in the afternoon (lunch) with food or after eating daily. (DO NOT EXCEED FOUR CAPSULES A DAY)
WARNINGS
Contains Fish & Egg. This product was produced in a facility that may also processing ingredients containing milk, egg, soy, shellfish, fish, tree, nuts, wheat and peanuts.