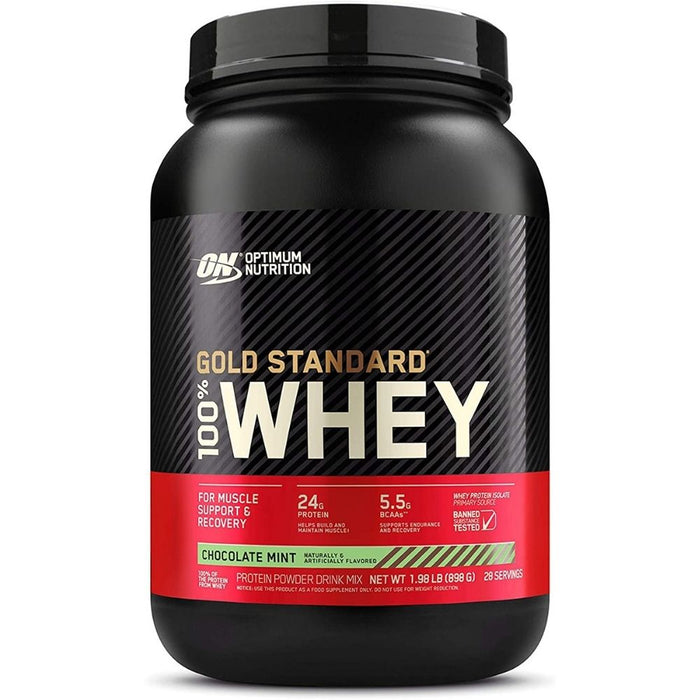 Optimum Nutrition Gold Standard 100% Whey Protein
Sold out
Original price
$30.99
-
Original price
$159.99
Free 30 Day Returns

Free Shipping Over $50

Pay in 4 With Afterpay
The True Strength of Whey
Whey Protein Isolates (WPI) are the purest form of whey protein that currently exists. WPIs are costly to use, but rate among the best proteins that money can buy. That's why they're the first ingredient you read on the Gold Standard 100% Whey™ label. By using WPI as the primary ingredient along with premium ultra-filtered whey protein concentrate (WPC), we're able to pack 24 grams of protein into every serving to support your muscle building needs after training. ON's attention to detail also extends to mixability. This superior quality powder has been instantized to mix easily using a shaker cup or just a glass and spoon. There's no doubt that this is the standard by which all other whey proteins are measured.
Whey Protein Isolate (WPI) Main Ingredient
Whey Protein Microfractions from Whey Protein Isolates & Ultra-Filtered Whey Protein Concentrate
Over 4 Grams of Glutamine & Glutamic Acid in Each Serving
More Than 5 Grams of the Naturally Occurring Branched Chain Amino Acids (BCAAs) Leucine, Isoleucine, and Valine in Each Serving
The "Gold Standard" for Protein Quality
SUPPLEMENT FACTS

DIRECTIONS
SPOON-STIRRED: Gold Standard 100% Whey is instantized. That means if you forgot your shaker cup or don't have time to get out the blender, you can just add one scoop of 100% Whey to a glass filled with 6-8 fl oz of water or your favorite beverage. Then mix it up with a spoon. Stir for about 30 seconds or until powder is completely dissolved. SHAKER: Bringing a shaker cup with you to the gym is the best way to get a dose of protein immediately after your workout. Just pour in 6-8 fl oz of your preferred beverage and then add one scoop of Gold Standard 100% Whey to your shaker cup. Cover and shake for 25-30 seconds. BLENDER: Add one scoop of Gold Standard 100% Whey to a blender filled with 6-8 fl oz of water or your favorite beverage. Blend for 20-30 seconds. Then add 1 or 2 ice cubes and blend for an additional 30 seconds.
WARNINGS
Contains Milk and Soy. NOTICE: Use this product as a food supplement only. Do not use for weight reduction. Store in a cool, dry place.