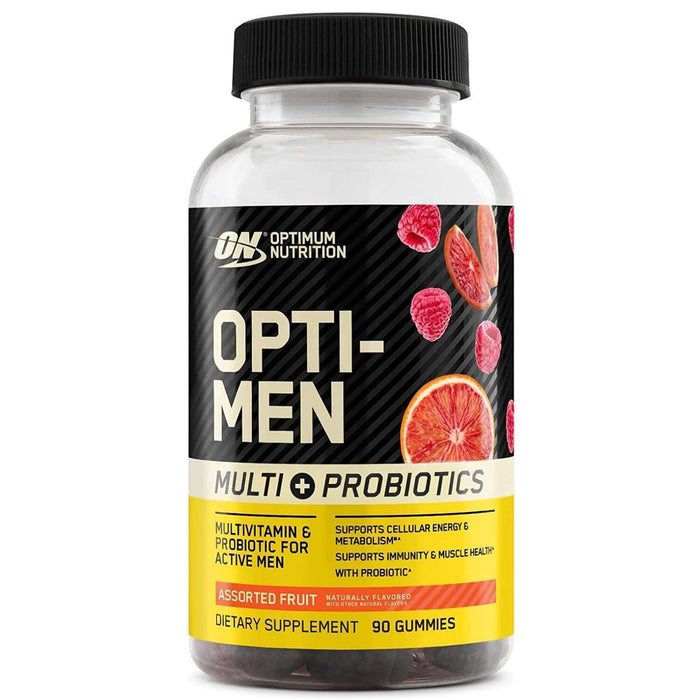 Optimum Nutrition Opti-Men Multi & Probiotic Gummies
Sold out
Original price
$24.99
-
Original price
$24.99
Free 30 Day Returns

Free Shipping Over $50

Pay in 4 With Afterpay
ON's Multivitamin Gummies For Active Men
ON's Nutrient Optimization System for active men stacks 75+ active ingredients into a 3-tablet serving you can take all at one meal or spread across meals throughout the day. In addition to vitamins and essential minerals, the formula includes foundational amounts of botanical extracts that can be built on through consumption of a healthy, balanced diet. Think of Opti-Men as nutritional insurance for your fit lifestyle.
HIGH POTENCY PRODUCT: Multivitamin & Probiotic for active men looking to boost their healthy lifestyle.

SUPPORTS energy, metabolism, muscle health and immunity, while providing probiotic support all in one serving.

OPTI-MEN GUMMIES provide 75+ ingredients in 4 blends specifically designed to support the nutrient needs of active men.

EACH SERVING INCLUDES free form amino acids, antioxidant vitamins, essential minerals and botanical extracts; Great source of Vitamin A, Vitamin C, Vitamin D, minerals and botanical extracts; Great source of Vitamin A, Vitamin C, Vitamin D, Vitamin E and Zinc

MIXED NATURAL FLAVORS: Raspberry + Blue Raspberry + Blood Orange. One bottle includes 90 gummies for a 30 day count

During the summer months products may arrive warm but Amazon stores and ships products in accordance with manufacturers' recommendations, when provided.
DIRECTIONS
Consume 3 gummies. Chew completely before swallowing. Suggested use: intended for use in healthy adults and as part of a healthy, balanced diet and exercise program.
WARNINGS
Consult your physician before using this product if you are taking any medications or are under a physician's care for a medical condition. Not for use by those who are under the age of 18 or women who are pregnant, trying to get pregnant, or are nursing.