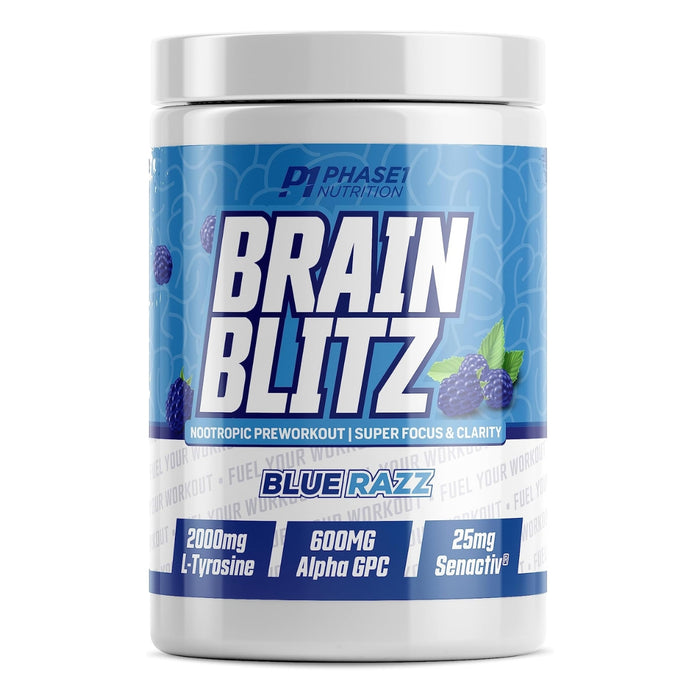 Phase One Brain Blitz
Sold out
Original price
$44.99
-
Original price
$44.99
Free 30 Day Returns

Free Shipping Over $50

Pay in 4 With Afterpay
Nootropic Pre-Workout
Brain Blitz is a nootropic pre-workout supplement that is designed to help you achieve laser-sharp focus, incredible muscle pumps, and sustained energy during your workouts. It is formulated with a blend of ingredients that have been clinically shown to improve cognitive function, increase energy levels, and promote muscle growth. Brain Blitz is an excellent choice for athletes looking for a pre-workout supplement that can help them achieve their goals, and it is also a good option for people looking for a way to improve their cognitive function and overall well-being.

Brain Blitz Benefits
Improved focus and concentration
Increased energy levels
Enhanced muscle pumps
Reduced muscle fatigue
Improved mood and motivation
Faster recovery from workouts
Brain Blitz is safe to use on a daily basis, but it is essential to start with a low dose and gradually increase it as needed. If you have any concerns about using Brain Blitz, talk to your doctor.
DIRECTIONS

Directions: Take 1 or 2 scoops 30 minutes prior to the workout to promote Bigger Pumps and Laser Focus.*

WARNINGS
Warning: For use by healthy adults only, not recommended for persons under the age of 18. Do not use it if you are pregnant or nursing. Individuals should not consume other caffeinated products in conjunction with this product. Seek advice from a healthcare professional before taking if you have any preexisting medical condition to ensure it is safe to take this product. Exceeding recommended serving will not improve results and may cause serious adverse health effects. Discontinue use and contact a licensed healthcare professional immediately if you experience an unusually rapid heartbeat, dizziness, severe headache, or shortness of breath. KEEP OUT OF REACH OF CHILDREN.


Do not use Brain Blitz if you are allergic to any of its ingredients.

 

The ingredients in Brain Blitz include caffeine, L-citrulline, beta-alanine, L-theanine, DMAE, and other natural ingredients. If you are allergic to any of these ingredients, you should not use Brain Blitz.
Stop using Brain Blitz and seek medical attention immediately if you experience any allergic reactions, such as hives, swelling, or difficulty breathing.

 

Allergic reactions to Brain Blitz are rare, but they can be serious. If you experience any allergic reactions, it is important to seek medical attention immediately.