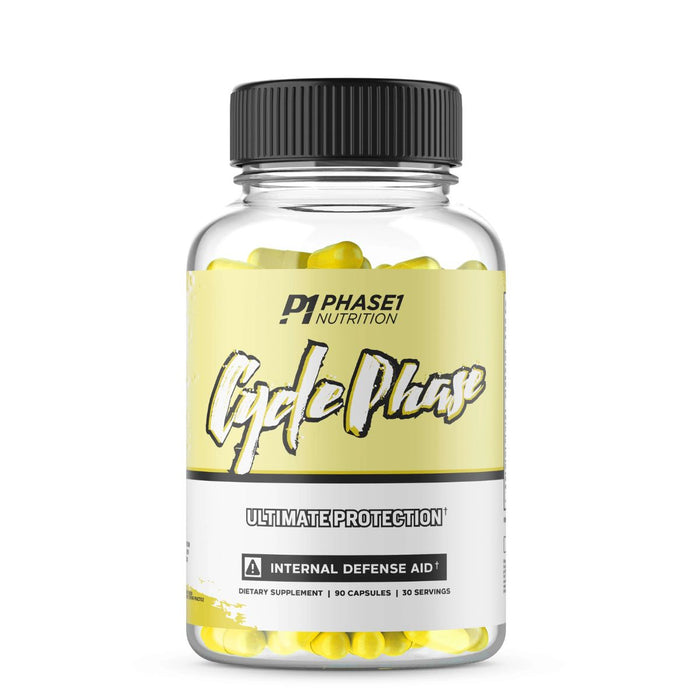 Phase One Cycle Phase
Sold out
Original price
$49.99
-
Original price
$49.99
Free 30 Day Returns

Free Shipping Over $50

Pay in 4 With Afterpay
CYCLE PHASE was formulated with three things in mind. Decrease estrogen being produced in the body or being produced while on a anabolic cycle, provide the liver with ingredients it needs to cleanse itself, and help with prostate support! This is a great product to add to your daily regimen or to take while running a cycle.
Organ Support
Cycle Phase boosts the immune system, enhances strength and reduces fatigue. It improves liver, kidney and other internal organs health and functioning while supporting weight loss. It is high in antioxidants that help anti-inflammatory issues and enhance nutrient absorption.
Prostate Health
Cycle Phase improves your prostate health. It also balances your hormone levels and prevents hair loss in both men and women.
Antiestrogen
Cycle Phase helps to control estrogen levels and lowers estrogen production. It allows your testosterone to rise without converting to estrogen, while also reducing the negative consequences of excessive testosterone with powerful anti-estrogens.
DIRECTIONS
Directions: Take 3 capsules daily with a meal. Do not exceed 4 weeks of continuous use without 4 weeks off.

WARNINGS
Warnings: This product is only intended for healthy adults 18 years of age or older. Before using this product, consult with a licensed healthcare professional. If you are taking any medication, or if you have a pre-existing medical condition including, but not limited to: high or low blood pressure, heart disease, thyroid disease, diabetes, or family history of any medical condition immediately discontinue use and consult your physician. If you experience an adverse reaction to this product, discontinue use. Do not exceed recommended dose. KEEP OUT OF REACH OF CHILDREN.