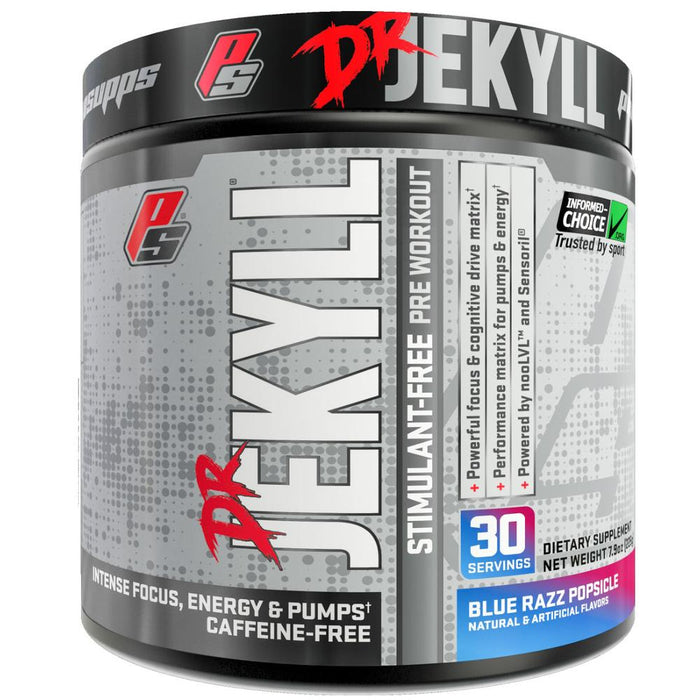 ProSupps Dr. Jekyll
Sold out
Original price
$34.99
-
Original price
$34.99
Free 30 Day Returns

Free Shipping Over $50

Pay in 4 With Afterpay
Let's get swole. ProSupps® Dr. Jekyll® Stimulant-Free is the versatile, thermogenic, non-stimulant pre-workout that delivers. ProSupps is the first to introduce nooLVL™, a pump and focus combined super-compound, that is designed to power blood flow and energy for sustained workouts. Along with nooLVL™ are the energy enhancing ingredients Creatine Hydrochloride Beta Alanine for sustained endurance, and Afromomum Melegueta for intense thermogenic activity. Dr. Jekyll® Stimulant-Free is the evolution of pre-workout formulas driving all of the important aspects of your workout by maximizing focus, muscle pumps and fullness while increasing training endurance and elevating strength/power output. It's the perfect all-around pre-workout for men and women looking to maximize their performance and focus without the jitters. † Note that Jekyll™ Stim-Free will make you sweat! And that little bit of spicy tingle at the back of your throat? That means it's working. FEEL — and sweat.
Promotes Prolonged Training Endurance†
Supports Increased Blood Flow for Maximum Pumps & Muscle Volume†
Enhanced by Adaptogens to Maximize Performance and Improve Recovery†
Promotes Thermogenesis†
Stimulant-Free, Caffeine-Free, Zero Sugar
Informed Choice Certified. Banned Substance Tested
DIRECTIONS
Suggested Use: Mix 1 Scoop Of Dr. Jekyll Stimulant Free With 8 Oz Of Cold Water. Consume 15 To 30 Minutes Before Exercise. If You Decide To Stack With Another Pre-Workout, Such As Mr. Hyde, Assess Tolerance With ½ Scoop Of Each Before Proceeding To A Full Serving. Some Users May Experience A Warming Sensation And Excessive Sweating After Consuming. This Is Attributed To The Aframomum Melegueta.