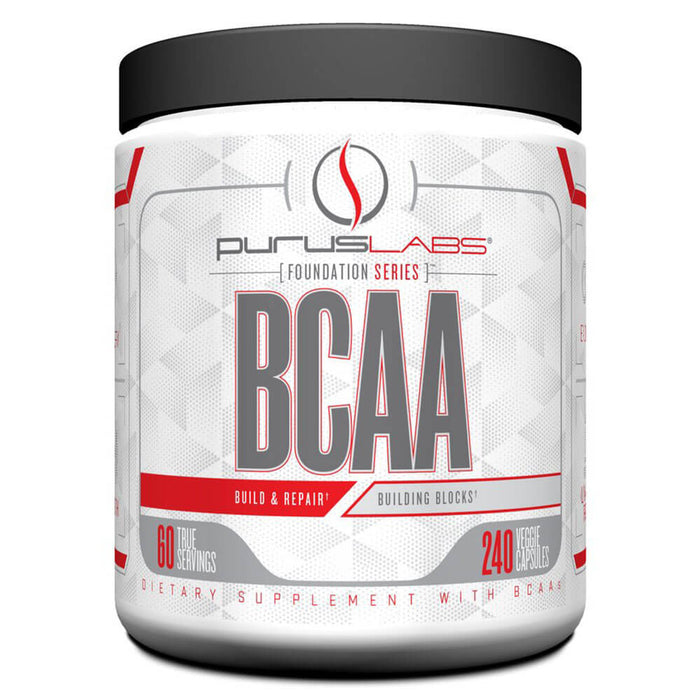 Purus Labs BCAA
Sold out
Original price
$29.99
-
Original price
$29.99
Free 30 Day Returns

Free Shipping Over $50

Pay in 4 With Afterpay
Branch Chain Amino Acid Capsules
The Foundation Series is a line of cornerstone products designed to work synergistically with our Performance line of products and enhance their effects. They are research-backed, stackable and economical.
BCAA (branched chain amino acids) are 3 unique amino acids directly responsible for stimulating muscle protein synthesis, the process by which your body creates new muscle tissue. Not only do they build muscle, they also help protect muscle during training and while dieting. BCAAs are depleted when you exercise, therefore supplementing with our BCAAs will provide an anti-fatigue/endurance effect. Obviously, all of these effects are highly desired, so many choose to consume BCAAs with their pre-workout, year-round and even on off-days. For those who like to toss all of their pre-workout products into one performance-cocktail, we offer BCAAs in a flavored, sugar and dye-free powder called Everyday Amino.
Directions: Consume 1-2 Servings Before And After Working Out To Maximize Muscle Growth And Repair. Consume Before Fasted Cardio To Prevent Muscle Breakdown.

Warnings" Consult A Licensed Healthcare Practitioner Before Use. Do Not Use If You Are Currently Pregnant Or Nursing, Have Had Or Have A Family History Of Heart Disease, High Blood Pressure, Stroke Or Any Other Disease, Or Using An MAOI, Prescription Drug, Or Over-The-Counter Drug. Discontinue Use Immediately If You Experience Any Adverse Reactions. Store In A Cool, Dry Area Away From Direct Sunlight.