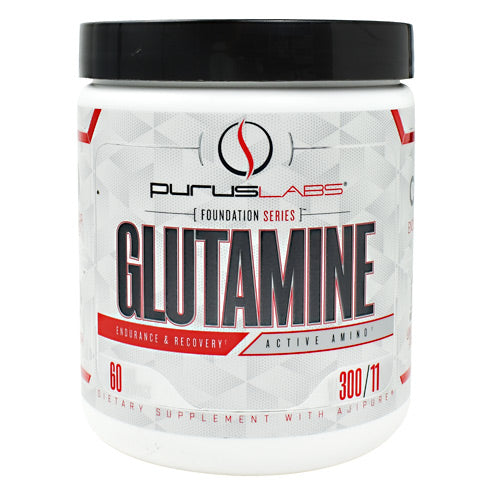 Purus Labs Glutamine
Sold out
Original price
$19.99
-
Original price
$19.99
Free 30 Day Returns

Free Shipping Over $50

Pay in 4 With Afterpay
Pure Fermented Glutamine
L-Glutamine is the most abundant free-form amino acid within your skeletal muscle. It's largely responsible for removing ammonia toxins from your bloodstream (allowing you greater endurance), increasing muscle protein processing (increasing your lean muscle mass) and producing growth hormone (igniting your fat loss). It's so powerful, it's often given in combination with Arginine to speed patient-recovery in certain hospital settings.
MUSCLE GROWTH AND RECOVER
During high intensity training, glutamine levels are depleted in your body, which decreases strength, stamina, and recover. By supplementing with L-Glutamine you can minimize muscle breakdown and enhance your protein metabolism.
ACTIVE AMINO ACID
There are 20 different amino acids, 9 of which are considerd essential amino acids. Glutamine is considered conditionally essential in humans, meaning we the body can usually synthesize sufficient amounts of it, but during intense workouts and exercises our bodies can use a helping hand, which is why taking a glutamine supplement is vital for anyone trying to take their fitness to the next level.
SUPPORTS DIGESTION AND GASTROINTESTINAL HEALTH
A leaky gut occurs when the body is not sufficiently producing new and healthy digestive structure cells. Glutamine is the primary amino acid in this process. Studies have shown that by supplementing l-glutamine you can help keep your digestive health on track.
ENHANCE IMMUNE SYSTEM
When you put your body through hard workouts it leaves your body more susceptible to illness. Studies have shown that a weaken immune system after a strenuous workout can be linked to a lacking of plasma glutamine concentrations.
MADE IN TEXAS
All of our products are manufactured and hand filled in the great state of Texas. To ensure quality we take the extra step of having our products tested by a third party lab and provide the lot number on the bottom of each of our bottles in the case of a recall or to be able to test that batch if there are any customer complaints. We strive to give our customers only the best and hold ourselves to the highest expectations.

Warnings: Consult A Licensed Healthcare Practitioner Before Use. Do Not Use If You Are Currently Pregnant Or Nursing, Have Had Or Have A Family History Of Heart Disease, High Blood Pressure, Stroke Or Any Other Disease, Or Using An MAOI, Prescription Drug, Or Over-The-Counter Drug. Discontinue Use Immediately If You Experience Any Adverse Reactions. Store In A Cool, Dry Area Away From Direct Sunlight.