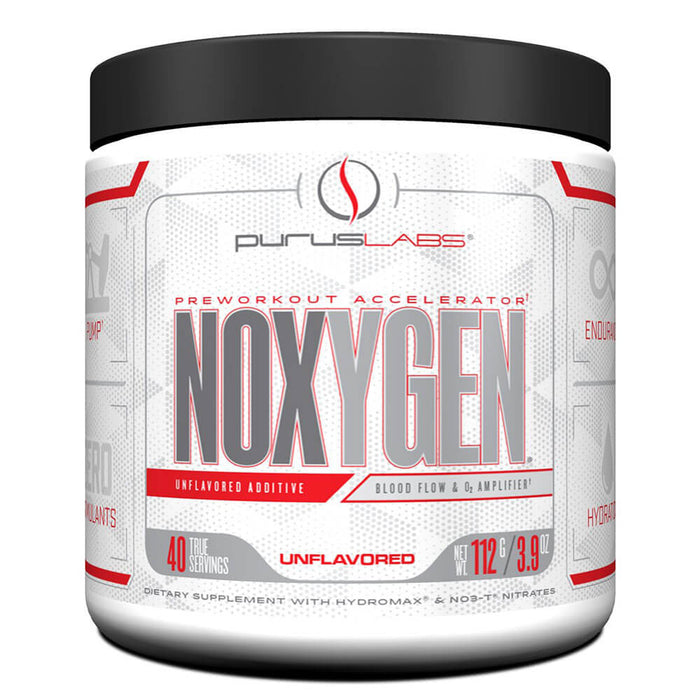 Purus Labs NOXygen Powder
Sold out
Original price
$19.99
-
Original price
$19.99
Free 30 Day Returns

Free Shipping Over $50

Pay in 4 With Afterpay
Stimulant Free Pre-Workout
NOXygen® is a stimulant-free, unflavored supplement additive that will complement any pre workout or intra-workout beverage while supporting expanded strength, endurance and hydration. NOXygen® is stimulant and dye free, so add it into your daily regimen on non-training or cardio days as well. Your taste buds won't realize it's in there, but your muscles definitely will! NOXygen® truly is an "any exercise, anytime" performance accelerant.
Directions: Add One Servings To Your Preworkout Beverage 15-30 Minutes Before Training For Maximum Blood And Oxygen Delivery. For Endurance Training, Mix with Your Intraworkout or Hydration Beverage and Consume Throughout Training.

Warnings: Noxygen Is Intended Only For Healthy Adults Above The Age Of 18. All Individuals Should Consult A Licensed Healthcare Practitioner Before Using This Product. Do Not Use This Product If You Have Been Diagnosed With Or Have A Family History Of (Including, But Not Limited To): Heart Disease, Thyroid Disease, Liver Disease, Cancer, Barrett's Esophagus, Gastroesophageal Reflux, Diabetes, Hypoglycemia, Hypo/Hypertension, Asthma, Any Psychiatric Condition Including Depression Or Seizure Disorder, Or If You Are Using Any Other Dietary Supplement, Prescription Drug, Or Over-The-Counter Drug Intended To Promote Vasodilation, In Particular Those Intended For Erectile Dysfunction. The Combined Use Of Vasodilatory Supplements Or Drugs And Noxygen Could Cause An Unsafe Drop In Blood Pressure. Discontinue Use And Contact A Medical Doctor Immediately If You Experience An Irregular Or Rapid Heart Beat, Chest Pain, Shortness Of Breath, Dizziness, Lightheadedness, Fainting Or Presyncope, Tremors, Headache, Nausea, Or Other Similar Symptoms. If You Are A Performance Athlete And/Or Subject To Drug Testing, Please Ensure Compliance With Your Regulatory Body Prior To Use.