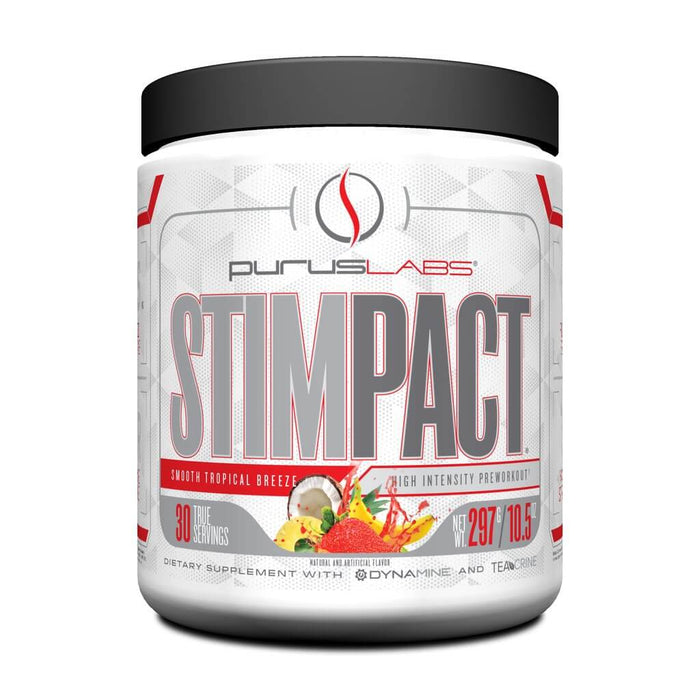 Purus Labs StimPact
Sold out
Original price
$34.99
-
Original price
$34.99
Free 30 Day Returns

Free Shipping Over $50

Pay in 4 With Afterpay
High Intensity Pre-Workout
STIMPACTⓇ pre workout provides an intense neurological & muscular energy boost. StimPactⓇ is about sheer speed and power, PERIOD. 425mg of sustained-release caffeine and theobromine provides lasting energy. TeaCrine® and Dynamine®, along with choline and Huperzine A drive neural focus to keep your attention laser sharp and your mind on point during the hardest of workouts.
Directions: Mix 1 Serving In 10-12 Ounces Of Water Between 15 And 30 Minutes Prior To Exercise. Do Not Consume Within Six Hours Of Bedtime. Do Not Use More Than On Serving Daily.

Warnings: Stimpact Is Intended Only For Healthy Adults Above The Age Of 18. All Individuals Should Consult A Licensed Healthcare Proctitoner Before Using This Product. Do Not Use This Product If You Are Pregnant Or Nursing. Do Not Use This Product If You Have Been Diagnosed With Or Have A Family History Of (Including, But Not Limited To); Heart Disease, Thyroid Disease, Liver Disease, Cancer, Diabetes, Hypoglycemia, Hypo/Hypertension, Asthma, Any Psychiatric Condition Including Depression Or Seizure Disorder Or If You Are Using Any Other Dietary Supplement, Prescription Drug Or Over-The-Counter Drug Intended To Treat Cold Or Sinus Symptoms. Discontinue Use And Contact A Medical Doctor Immediately If You Experience An Irregular Or Rapid Heart Beat, Cheat Pain, Shortness Of Breath, Dizziness, Lightheadedness, Fainting Or Presyncope, Tremors, Headache, Nausea, Or Other Similar Symptoms.