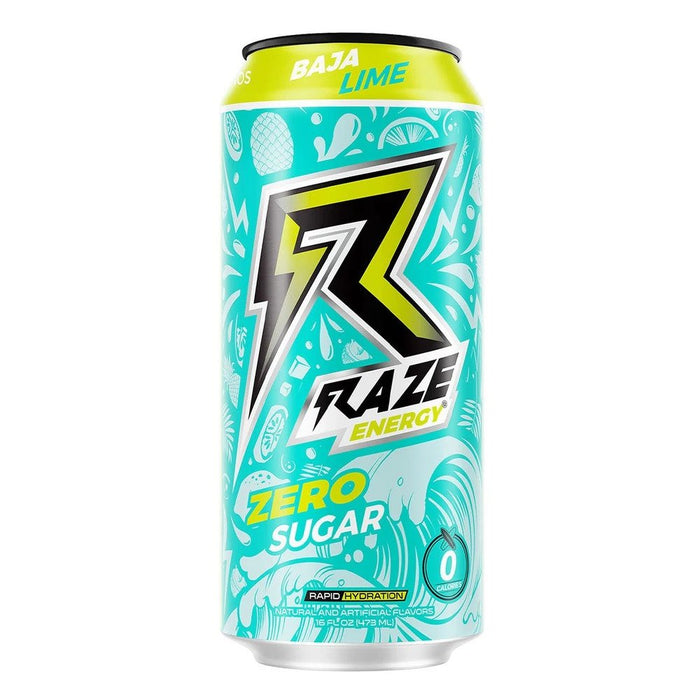 Raze Energy Drink
Save

0

%
Save %
Original price
$29.99
-
Original price
$29.99
Free 30 Day Returns

Free Shipping Over $50

Pay in 4 With Afterpay
Zero Sugar Energy Drink
🔥 Hydrating Energy
🔥 Rapid Restorative Recovery
🔥 Intensified Stamina
🔥 Razor Sharp Mental Focus
🔥 No Crash AT ALL!
🔥 Zero Sugar
Zero Sugar. No Crash. Electrolytes. BCAA Aminos. RE(FRESH) with Raze. (F)ocus, A powerful cognitive blend featuring Alpha GPC delivers crystalline focus & mental clarity without the crash. Find your flow. (R)ecovery, Fortified with restorative branched-chain amino acids (BCAAs), Raze supports physical and mental recovery. (E)nergy, Charged with time-releasing caffeine, Raze delivers an insane, no crash, burst of energy. Ever tangled with 3 bulls? (S)tamina, Containing a mixture of revitalizing nutrients for body and mind, Raze unleashes your second, third, and fourth wind. (H)ydration, Packed with replenishing electrolytes for rapid hydration, Raze is the most refreshing energy drink on the planet. The Greater Aid. 0 Carbs. 0 Artificial Dyes.

DIRECTIONS
Directions: Consume One Can (16 Fl Oz) Of Raze Energy 20-30 Minutes Before Conquering Your Exercise And/Or Life.
WARNINGS
Warnings: THIS PRODUCT IS ONLY INTENDED TO BE CONSUMED BY HEALTHY ADULTS, 18 YEARS OF AGE OR OLDER. Do not use this product if you are pregnant or nursing, and before consulting a licensed, qualified healthcare professional, especially if you are taking any prescription drug or over-the-counter medication or if you suspect you have or have been treated for, diagnosed with, or have a family history of any medical condition. Do not consume caffeine from other sources while taking this product. Discontinue use 2 weeks prior to surgery. Do not exceed two servings within any 24 hour period. Store in a cool dry place. Do not freeze. KEEP OUT OF REACH OF CHILDREN. CAUTION: Too much caffeine may cause nervousness, irritability, sleeplessness, and occasionally, rapid heartbeat. Not recommended for use by individuals under 18 years of age. One serving of raze provides more than 300mg of caffeine which is more than two cups of coffee.