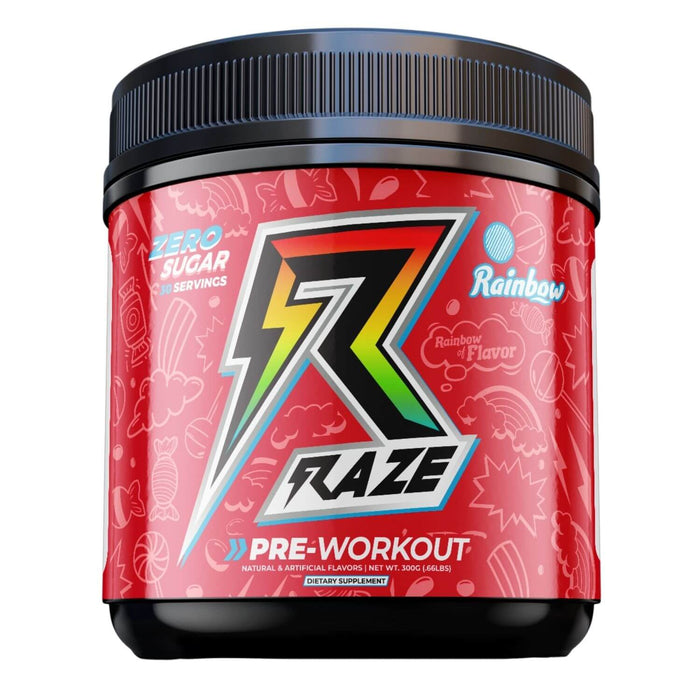 Raze Pre Workout
Sold out
Original price
$44.99
-
Original price
$44.99
Free 30 Day Returns

Free Shipping Over $50

Pay in 4 With Afterpay
Raze Pre-workout is formulated with all of the amazing ingredients from our raze energy drink plus an extra boost so you can take your workouts to the next level.
POTENT TIME RELEASED CAFFEINE BLEND†
INTENSIFIED PUMP†
RAZOR SHARP MENTAL FOCUS†
NO CRASH!†
DIRECTIONS
Directions: Due to the strength of RAZE Pre-Workout, we recommend assessing your tolerance by starting with only 1/2 (Half) Scoop before training with 8-10oz of water. Once tolerance has been assessed, with caution, for persons who are tolerant of HIGH STIMULANTS you may increase to 1 LEVEL Scoop prior to training. DO NOT EXCEED 1 SERVING IN ANY 24 HOUR PERIOD.
WARNINGS
Warning: THIS PRODUCT IS ONLY INTENDED TO BE CONSUME BY HEALTHY ADULTS, 18 YEARS OF AGE OR OLDER. EACH SERVING (1 SCOOP) CONTAINS 300MG OF CAFFEINE. Do not use this products if you are pregnant, nursing, or are currently taking nitrates for chest pain or if you are taking medication used to treat erectile dysfunction such as PDE-5 inhibitors.