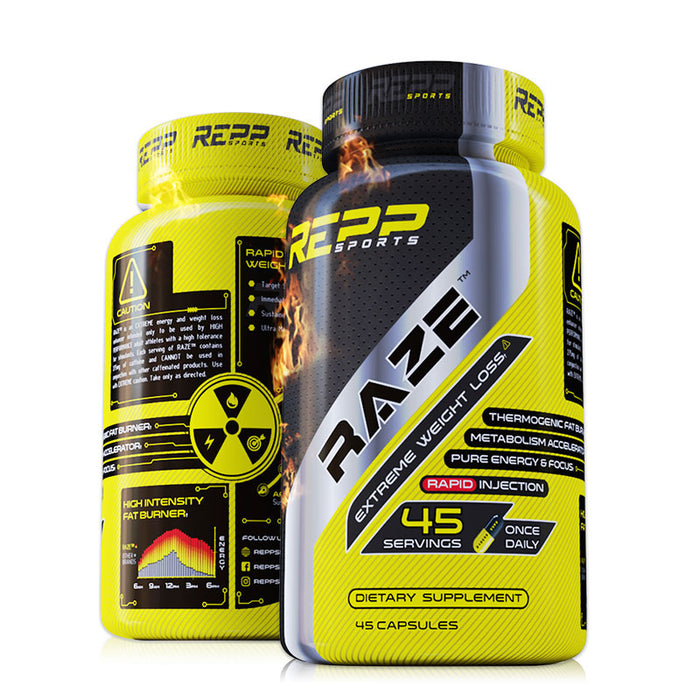 REPP Sports Raze
Sold out
Original price
$54.99
-
Original price
$54.99
Free 30 Day Returns

Free Shipping Over $50

Pay in 4 With Afterpay
Raze Extreme Fat Burner
⚡ One of the strongest non-ephedra fat burning compounds in the world. It also boosts libido, making it the sexiest fat burner on Earth.†
⚡ Target Stubborn Fat Cells†
⚡ Immediate Metabolism Accelerant†
⚡ Sustained No Crash Energy†
⚡ Ultra Mental Focus & Clarity†
Extreme Weight Loss. Thermogenic Fat Burner. Metabolism Accelerator. Pure Energy & Focus. Rapid Injection. 45 Servings. Once Daily. Raze is an extreme energy and weight loss enhancer intended only to be used by high performance adult athletes with a high tolerance for stimulants. Each serving of Raze contains 250mg of caffeine and cannot be used in conjunction with other caffeinated products. Use with extreme caution. Take only as directed. High Intensity Fat Burner. Rapid Enhancement Weight Loss Formula. Target Stubborn Fat Cells. Immediate Metabolism Accelerant. Sustained No Crash Energy. Ultra Mental Focus & Clarity. All Day Weight Loss. Melt Fat.
DIRECTIONS
Directions: Raze is a very powerful supplement and as such, should be used with extreme caution. Test your body's tolerance to Raze before establishing a routine. Start by taking 1 serving (1 capsule) daily with breakfast every morning for the first 3 days. Effects should be long lasting, but if they continue for longer than 15 hours, adjust routine to 1 serving every other day. Over time, dosage may be increased by taking a second serving NO LESS THAN 8 HOURS after the previous serving. DO NOT consume more than 2 servings in any 24 hour period. Take care to allow enough time for effects to subside before bedtime. Do not exceed 8 weeks of continued use.
WARNINGS
Warnings: Not intended for use by persons under 18. Do not use if pregnant or nursing. Discontinue use and consult a medical doctor is you experience unusual symptoms. Consult a medical doctor before use if you have been treated for or diagnosed with, or have a family history of any medical condition, or if you are using any prescription or over-the-counter drug(s). Consult a medical doctor before starting a diet or exercise program. One serving of this product contains 250mg of caffeine, as much as approximately 3 cups of coffee. Caffeine sensitive individuals may experience symptoms including (but not limited to) restlessness, nervousness, tremors, headache, anxiety, palpitations, increased heart rate or difficulty sleeping. DO NOT exceed recommended dosage. Improper use of this product will not improve results and can be extremely dangerous. Take only as directed KEEP OUT OF REACH OF CHILDREN. DO NOT use Raze for longer than 60 days continuously. Allergen: Manufactured in a plant that also processes milk, egg, soy, peanut, fish, crustaceans/shellfish, tree nuts and wheat products.