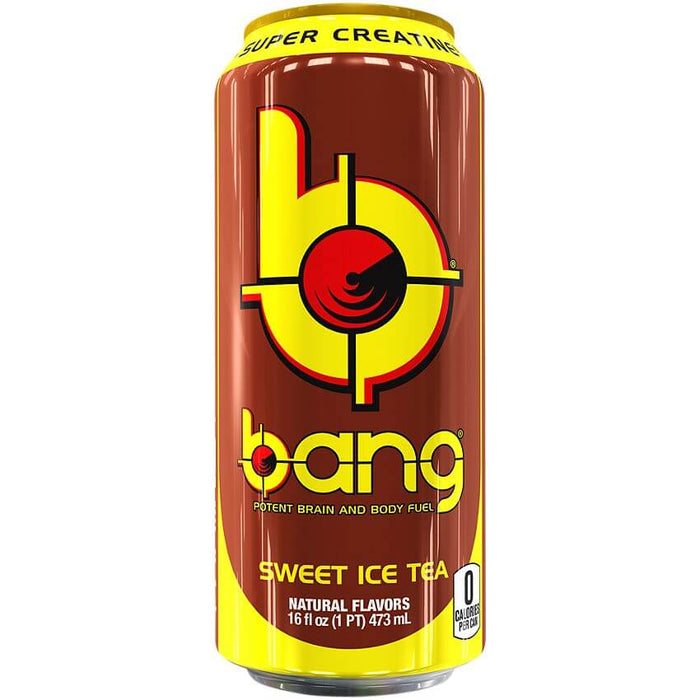 VPX Bang Energy Tea
Sold out
Original price
$26.99
-
Original price
$26.99
Free 30 Day Returns

Free Shipping Over $50

Pay in 4 With Afterpay
Sugar Free Energy Drink. Zero Calories
Bang® Sweet Tea energy drink is not your typical sugar-filled iced tea that you sip on the porch with grandma as she shakes her fist and yells obscenities at passers-by who dare to venture too close to her beloved azaleas. In addition to being better tasting than grandma's sugar swill, Bang® Sweet Tea energy drink is fuel for your body and soul, providing you with sustained energy, mental focus and the physical prowess you need to get through whatever the day throws at you. 
Every 16-ounce can of Bang® Sweet Tea, which comes in three delectable flavors — Georgia Peach, Lemon Drop and Sweet Ice Tea — contains 300 milligrams of caffeine. Caffeine has been shown to increase endurance, as well as strength in some cases.  
What's more, Bang® is sugar-free and has ZERO calories.
WARNINGS
Warnings: Do not use this product if you are pregnant or nursing. Do not consume this product if you are taking any prescription drug and/or have any medical condition. The user of this product assumes all liability if this product is used in a manner not consistent with label guidelines. This product contains caffeine and should not be used with any other caffeine-containing products. This product is intended for use by healthy individuals only. 
Too much caffeine may cause nervousness, irritability, sleeplessness, and, occasionally, rapid heartbeat. Not recommended for use by children under 18 years of age. One serving of Bang® Sweet Tea provides 300 mg of caffeine, which is more than two cups of coffee.