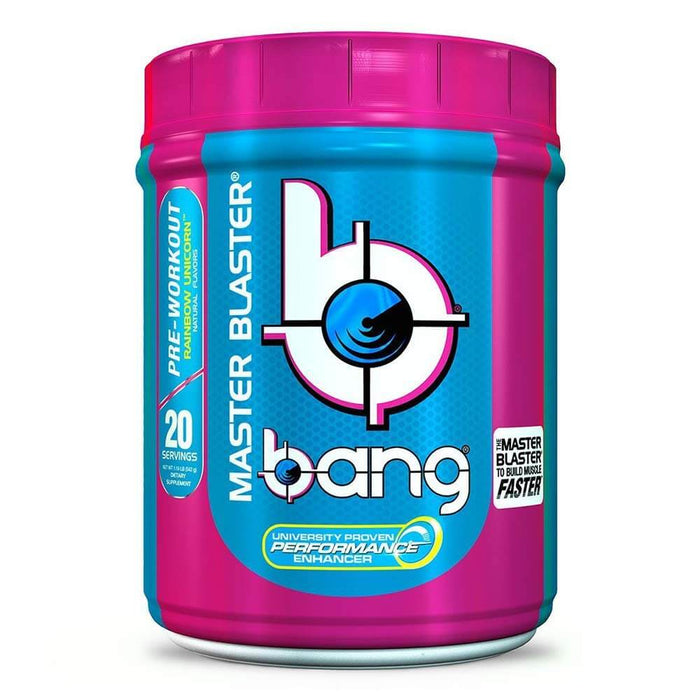 VPX Bang Master Blaster
Sold out
Original price
$35.99
-
Original price
$35.99
Free 30 Day Returns

Free Shipping Over $50

Pay in 4 With Afterpay
Pre-Workout with 7.5 grams of BCAA
Bang® Master Blaster® is not your typical peak-and-crash pre-workout drink that leaves you exhausted and barely able to finish your second set of leg curls. If you've ever had a Bang® energy drink you know that Bang is a different kind of company. We're not interested in saying we have the best energy drinks and sports supplements in the world while offering buy-one-get-one specials at the local Kwik-E-Mart — we're interested in PROVING it. 
Not your Stereotypical Pre-workout: Make no mistake Bang Master Blaster is not your stereotypical life-sucking / muscle destroying pre-workout "Concentrate".

Bang Breakthrough!: The very definition of Bang screams scientific breakthrough! Infused with patented water-stable super creatine.

Bang: Triggered a major paradigm shift among the performance & bodybuilding authorities & has now become the most disruptive scientific innovation in the 30-year history of Sports Nutrition!

Bang Master Blaster: is designed around the Patented Super Creatine-Amino acid di-Peptide that is far more soluble than regular Creatine & L-Leucine. Furthermore, the New Bang Master Blaster pre-workout contains massive doses of clean performance-enhancing & bodybuilding ingredients designed to work in concert with Super Creatine.

Strong & Great taste!: All ingredients are fully disclosed on the label because we are proud that Bang Master Blaster is the most potent, best tasting pre-workout supplement in history!
DIRECTIONS
Directions: Mix One Scoop Of Bang Master Blaster With 12 Ounces Of Water 30 Minutes Before Workout. Start With ½ Scoop To Assess Tolerance.
WARNINGS
Warnings: Too Much Caffeine May Cause Nervousness, Irritability, Sleeplessness And Occasionally, Rapid Heartbeat. Not Recommended For Use By Individuals Under 18 Years Of Age. One Serving Of Bang Master Blaster Provides 350 Mg Of Caffeine Which Is Approximately Equal To Three Cups Of Coffee. KEEP OUT OF REACH OF CHILDREN. Store Container Between 15C And 25C (59F To 77F). Product Contains Heat And Moisture Sensitive Materials, Which Can Cause Clumping And Settling. Caution: Do Not Use This Product If You Are Pregnant Or Nursing. Do Not Consume This Product If You Are Taking Any Prescription Drug And/Or Have Any Medical Condition. The User Of This Product Assumes All Liability If This Product Is Used In A Manner Not Consistent With Label Guidelines. This Product Contains Caffeine And Should Not Be Used With Any Other Caffeine Containing Products. This Product Is Intended For Use By Healthy Individuals Only Over 18 Years Of Age.