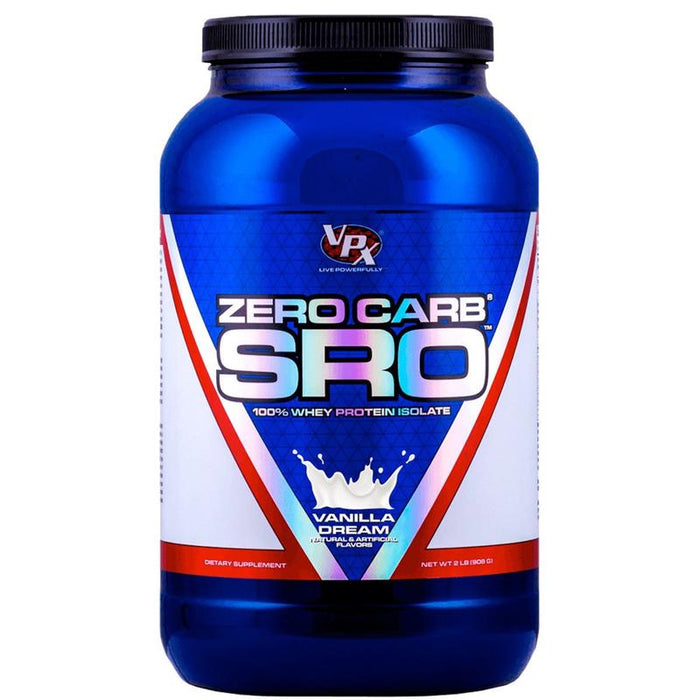 VPX Zero Carb SRO
Sold out
Original price
$42.99
-
Original price
$76.99
Free 30 Day Returns

Free Shipping Over $50

Pay in 4 With Afterpay
Whey Protein Isolate
Zero Carb® SRO™ is a whey protein isolate. WPI is highly refined, containing at least 90 percent protein along with less lactose (even those who are lactose intolerant may be able to consume it). Whey protein isolate also digests very quickly and contains the highest concentration of branched-chain amino acids (BCAAs) of any protein supplement on the market, making it the perfect pre- or post-workout drink.
Over two decades ago, Vital Pharmaceuticals (VPX) was the first company to release a 100% WPI utilizing a cross-flow microfiltration system. This created quite a stir in the supplement industry because, until that time, only whey protein concentrate (WPC) or low-grade, ion-exchange WPI was available.
As you can imagine, there have been significant improvements in protein technology over the past 20+ years. As a result of these superior scientific advancements, VPX is utilizing new, high-tech filtering systems that produce isolated proteins that are extremely pure and ultra-rich in potent, low-molecular-weight micro-fractions. These micro-fractions are easily accessed by the body, which is what makes SRO™ so powerful!
There's another reason protein should be a part of any healthy diet, especially for people looking to lose weight — it's called the "thermic effect." Simply, put the body expends more energy, i.e. heat, to digest protein. More energy required, more calories burnt.
Thermic Effect of Macronutrients:
Lipids (fat): 2-3%
Carbohydrates: 6-8%
Protein: 25-30%
What's more, 20-25 grams of protein has been found to be the near-perfect serving size (depending on one's weight), according to research conducted by the Journal of the International Society of Sports Nutrition, while Bang CEO and Chief Science Officer Jack Owoc recommends up to 40 grams of SRO Whey Protein Isolate following intense exercise.
Zero Carb® SRO™ also tastes great and mixes easily with water, milk — whatever you prefer!
DIRECTIONS
Drections: For A Great Tasting, Delicious Shake Combine Each Scoop Of Zero Carb SRO Protein With 3-5 Ounces Of Cold Water (Depending On Personal Preference For Desired Thickness). For Added Body Blend Two Or Three Ice Cubes With Zero Carb SRO Protein. Use 2-3 Servings Daily. Always Drink 12 To 16 Ounces Of Additional Water For Each Protein Shake Consumed.